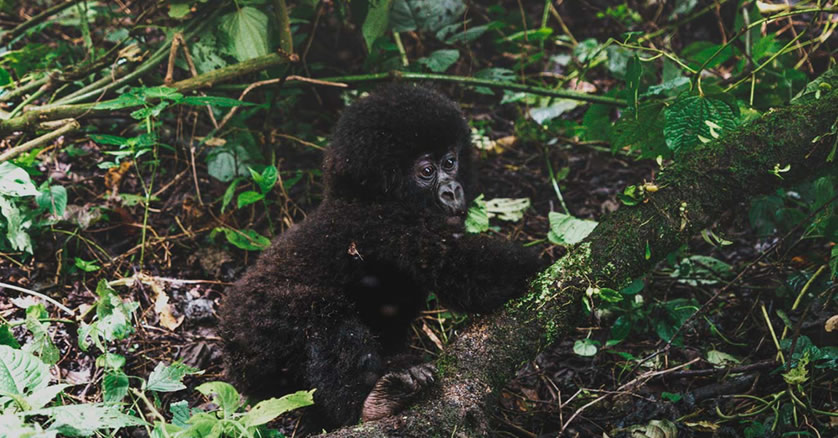 Trip Overview
This 3 Days Rwanda Gorilla Tour takes you to Volcanoes National Park located in North Western Rwanda. Volcanoes Park is home to the highest population of mountain gorillas in the Virunga Conservation  area which make it a best destination to see these endangered primates. The 3 Days trip offers you chance to trek one of the 10 gorilla families habituated in Volcanoes National Park. These include  Hirwa family, Agashya Gorilla Family, Karisimbi Gorilla Family, Kwitonda Family, Susa A family, Amahoro family, Umubano Family, Titus Family, Sabyinyo Family, Ugenda Family and Kwitonda Gorilla Families. Each gorilla family is visited by 8 travelers per day which guarantee availability of 8 gorilla permits per gorilla family. In addition to mountain gorillas, Volcanoes National Park is home to the endangered golden monkeys and other wild animal such as African Buffalo, Forest Elephants, Vervet Monkeys, Black Tailed Monkeys, Baboons and Colobus Monkeys among others.  The Park is also home to Mt Karisimbi and Mt Bisoke which offer lifetime mountaineering experiences for adventure travelers.  More so, the park is home to over 180 bird species which make it a haven for birders. The birds in Volcanoes Park include Blue Spotted wood dove, Baglafetch Weaver, Cinnamon Chested Bee Eater, Red backed Shrike, Bateleur, African Long Eared Owl, Brown Necked Parrot, Ruwenzori Nightjar, Ruwenzori Turaco and Handsome Francolin among others.  Volcanoes National park is also home to the graveyard of Dian Fossey, An American primatologist who lost her life to poachers in her campaign to save the endangered gorillas that were highly  threatened.  Other interesting activities to do in Volcanoes National Park include golden monkey trekking, bird watching, Dian Fossey graveyard hike, nature walks, visiting musanze caves, visiting buhondo and bulera twin lakes,  and cultural tour  to the Gorilla Guardians Village to learn Rwanda traditions, norms, customs and beliefs. Combining two or more activities in Volcanoes National park offer you a lifetime experience.   The drive time from Kigali airport to Volcanoes National Park is roughly3 hours. The 3 Days Rwanda gorilla trek also entail visiting the genocide memorial site and Iby'iwacu Cultural experience guided by Lets Go Tours Rwanda
Trip Summary
Day 1: Transfer to Volcanoes NP
Day 2: Mountain Gorilla Trekking and Iby'wacu Cultural Center
Day 3: Kigali City and Departure
Rwanda Gorilla Trek Highlights
Go gorilla trekking and meet families of mountain gorillas headed by a dominant silver back gorilla in Volcanoes national park Rwanda.
Spend time exploring the Rwandan authentic culture while visiting the gorilla guardian village. Spend time with the locals of Rwanda and learn about their day to day life, impact of gorilla tourism and so much more.
Full Itinerary
Day 1: Transfer to Volcanoes National Park
On arrival, you will be received and welcomed by our company representative before hitting the road to Volcanoes National Park in Musanze province. En route; enjoy the beautiful views of the rolling hills and green vegetation. Dinner and overnight at The Garden Place (Budget), Davinci Gorilla Lodge (Midrange), Mountain Gorilla View Lodge (Luxury).
Day 2: Mountain Gorilla Trekking and Iby'wacu Cultural Center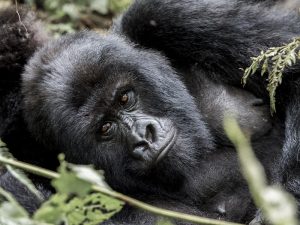 Enjoy an early morning breakfast and assemble at the Kinigi park head offices by 7:00am for morning briefing on the trekking guidelines before taking onto your adventurous expedition. Usually, it takes Rwanda toursabout 30 minutes to several hours to encounter the mountain gorillas; but once got, enjoy an hour with them before retrieving to the starting point (for Certificates of Participation) before retrieving your lodge. Later in the afternoon, head out for the Iby'wacu Cultural tour for a clearer understanding of the Rwandese Culture. Dinner and overnight at The Garden Place (Budget), Davinci Gorilla Lodge (Midrange), Mountain Gorilla View Lodge (Luxury).
Day 3: Kigali City and Departure
Have breakfast at leisure and set off for Kigali for an amazing Kigali City Tour; visiting the Gisozi Genocide Memorial Site, National Museum and many other exceptional tourist centers within the city before drop off at either a hotel or airport for departure flight.
END OF TOUR
What is included
– Our Quotes offered in USD
– Full Board Accommodation
– Bottled Mineral water
– All meals on safari
– Gorilla Permits
– 4×4 safari vehicle with driver/guide
– Park Entrance fees
– Genocide memorial site tour
What is excluded
– Visas
– International / domestic Flights
– Alcoholic beverages
– Tipping
– Laundry
About Rwanda Safaris
Rwanda is one of the most rewarding spots to explore while visiting Africa mostly because of her popular sought after mountain gorillas in the Volcanoes national park. Rwanda tours
The country offers you a guarantee to come face-to-face with families of man's closest relative sharing 98% DNA
The country is one of Africa's fast growing economies, making bold decisions and ambitious plans to transform its self into a hotspot destination in Africa.
Apart from gorilla tours, Rwanda offers chimpanzee tracking in Nyungwe National Park – one of the largest unspoiled montane rainforest in Africa, visit Kigali's bustling markets, Gisozi genocide museum – a wealth of history, savannah wildlife viewing in Akagera national park and finally relax at the shores of lake Kivu after your gorilla trek.
Rwanda has a generally pleasant whether all year-round owing to her altitude. The country has two dry seasons between June-September and December-February are said to be the best times to travel there, but the two rainy seasons — March-May and October-November are also pleasant and green
How to Prepare for your gorilla tour
Carry plenty of water since you will be hiking on high altitudes have about 4 liters at least, snacks, bug spray like Deet 30, a light rain jacket, and go for the walking stick given at the briefing point.
Dress in long socks to tuck in your pants
Hire a porters to help carry your pack as well as a way to support the local community
Carry some shall bills and id possible some local currency (shillings) for tipping / gratitude. Carry recent dollars from 2013 and in good conditions without rips or old edges
Porters, rangers, guards and the rest of other staff are usually tipped $5 – $15 Per Person
For visitors very unfit, you have an option to be carried unto the gorillas and can negotiate the rates with the porters going to carry you. In addition, you can inform your tour operator to inform the park about your situated and they organize accordingly.
Please note, to trek gorillas successfully, you need to be fit, or an active person and not necessarily very fit.
Facts about Mountain Gorillas
As their name defines, mountain gorillas live high in the steep mountain forests. As their name defines, mountain gorillas live high in the steep mountain forests. They live at elevations of up to 8,000 to 13,000 feet (1,500m- 4000m).
They live at elevations of up to 8,000 to 13,000 feet (1,500m- 4000m).
Please note that, In all 3 different national parks where gorillas are located, there are families which live on the lower elevation and those found in the middle and those located much higher.
This gives opportunity to all all types of travelers to fulfill a life long dream of trekking mount gorillas and meeting our relatives.
Mountain gorilla live in families/ groups/ tribes of 10 and above members headed by a silverback gorilla which is a oldest male gorilla in the gorilla with a silverback.
Over 1006 mountain gorillas are surviving in central and East Africa gorilla trek Bwindi in Uganda – Bwindi forest and Mgahinga national parks, Rwanda – Volcanoes national park and Democratic Republic of Congo – Virunga national park
With each year, the numbers are growing thanks to the dedicated conservation team, and the tourists who fund the conservation projects through purchase of gorilla permits
Gorillas are identifies apart by their nose prints. For trackers who watch over them each day, they easily identify them and give them names.
All gorilla tours are guided by well trained professional park guides, ready to answer all your questions! All groups of 8 tourists who set out to trek for a gorilla family are escorted.