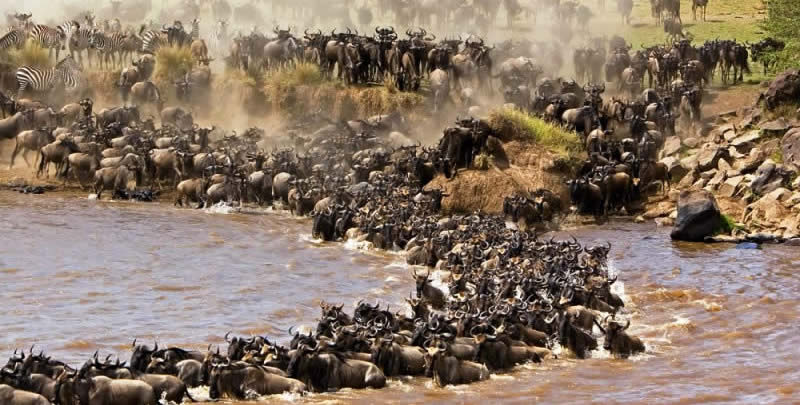 There are very few special wildlife safaris in the world that guarantee you ultimately mesmerizing encounter with huge concentration of wildlife. Spark your wilderness adventure spirit only with our uniquely crafted 8 days Tanzania wildebeest migration safari. This is a special 7 nights/8 days safari in Tanzania leading you to the country's top destinations in the Northern Tourist Circuit particularly Serengeti National Park, Ngorongoro Conservation Area and Lake Manyara National Park.
Serengeti National Park is without doubt one of the Africa's most visited parks. Known for its huge concentration of wildlife and most importantly millions of wildebeests, Serengeti National Park expands up to 14763 and it is officially a declared UNESCO Heritage Site. It hosts all the big five game- leopards, lions, rhinos, buffaloes, elephants plus cheetahs, giraffes, 500 birds and more.
Lake Manyara National Park is a special destination for watching the tree climbing lions and millions of flamingoes plus other water birds. It has diversity of habitats protecting not only the tree climbing lions but also elephants, giraffes, leopards, impalas, zebras, over 400 bird species including narina trogon, grey crowned cranes, Fischer's sparrow lark, rufous tailed weavers, crowned hornbill, emerald cuckoo etc.
Ngorongoro Conservation Area (NCA) a designated UNESCO Heritage Site sits within the Northern Tanzania safari circuit and occupies an area of 80440ha. This is characterized by extensive savannas, woodland, plains, forests where diversity of wildlife thrive including gazelles, wildebeests, cheetahs, jackals, hyenas, hunting dogs, lions, over 550 bird species including the resident and migratory birds.
Brief itinerary
Day 1: Arusha
Day 2: Arusha-Lake Manyara
Day 3: Ngorongoro Crater safari
Day 4: Ngorongoro Crater big five safari- Full Day
Day 5: Serengeti big game safari
Day 6 to 7: The Great Migration- Full Day
Day 8: Serengeti to Arusha- Departure
Detailed itinerary
Day 1: Arusha
Arusha Airport in Tanzania will be your pick up point. Meet our company representative/Tanzania safari guide for a warm welcome and later, briefing about what this safari is all about. After, board a comfortable 4×4 rental car in Tanzania for transfer to your pre-booked hotel for evening relaxation, dinner and overnight sleep.
Meal plan: Dinner & Breakfast
Accommodation
• Budget: Arusha Planet Lodge/Tulia Boutique Hotel & Spa
• Mid-range: Ahadi Lodge/Malkia Trees Lodge
• Luxury: Gran Melia Arusha/Kibo Palace Hotel/Four Points by Sheraton Arusha
Day 2: Arusha-Lake Manyara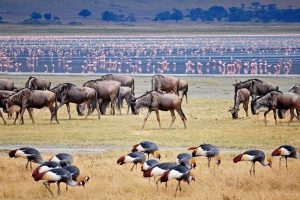 After breakfast early morning, start your safari to Lake Manyara National Park about 2-3 hours' drive/124.7kms from Arusha city. Follow the route leading to the Northern Tanzania safari circuit, navigating via the Great Rift Valley Escarpment while enjoying the breathtaking views.
Arrive at Arusha early, settle for an early lunch at the pre-booked safari lodge. In the afternoon, Lake Manyara National Park will treat with unforgettable guided game drive for you to look for the big game and other wildlife.
Lake Manyara National Park is a compact park but blessed with diversity of wildlife including the tree climbing lions, gazelles, hartebeests, giraffes, birds totaling up to 400 species and more.
Drive back to the lodge in 4WD vehicle while keeping an eye on numerous species of wildlife. At the lodge, have a relaxed evening, dinner and overnight sleep.
Meal plan: Breakfast, Lunch & Dinner
Accommodation
• Budget: Eco Bama Camp/Nsya Lodge/Haven Nature Camp
• Mid-range: Kirurumu Tented Lodge/Lake Manyara Tortilis/Escarpment Lodge
• Luxury: AndBeyond Lake Manyara Tree Lodge/Lake Manyara Serena Safari Lodge
Day 3: Ngorongoro Crater safari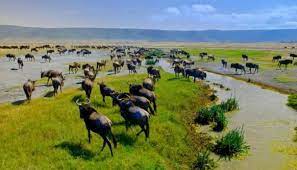 After breakfast, your morning includes check out of the lodge in Lake Manyara National Park and then, you embark on exit guided game drive. This is to allow you to see more wildlife species, enjoy the scenic view of the park with sunrise and proceed to Ngorongoro Conservation Area about 2 hours' drive.
At Ngorongoro Conservation Area your safari will get you the best of Ngorongoro Crater breathtaking view and encounter of the big five plus other wildlife. The crater region is endowed with wildlife species such as leopards, lions, elephants, buffaloes, cheetahs, rhinos, antelopes, black backed jackals, hartebeests, birds in large numbers and more.
Meal plan: All the 3 meals- Breakfast, Lunch & Dinner
Accommodation
• Budget: Olduvai Tented Camp/Ngorongoro Highland Camp
• Mid-range: Ngorongoro Serena Lodge/Ngorongoro Rhino Lodge
• Luxury: AndBeyond Ngorongoro Crater Lodge/Neptune Ngorongoro Luxury Lodge
Day 4: Ngorongoro Crater, big five game- Full Day
Ngorongoro Crater/Conservation Area safari will take you through a full day exploration of the big five and the crater. Enjoy incredible sightings of animals such as rhinos, gazelles, cheetahs, zebras, spotted hyenas, leopards, buffaloes, lions, and lots of birds.
Enjoy a picnic lunch and proceed with afternoon game drive to look for plentiful of other wildlife. Retreat from the extensive savannas to the lodge to settle for dinner and overnight stay.
Meal Plan: Breakfast, Lunch & Dinner
Accommodation
• Budget: Olduvai Tented Camp/Ngorongoro Highland Camp
• Mid-range: Ngorongoro Serena Lodge/Ngorongoro Rhino Lodge
• Luxury: AndBeyond Ngorongoro Crater Lodge/Neptune Ngorongoro Luxury Lodge
Day 5: Serengeti big game safari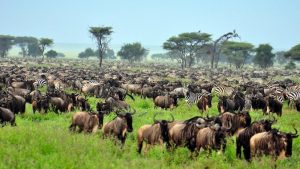 Transfer from Ngorongoro to Serengeti National Park with an en-route game drive in the morning. Lunch will be served at the lodge you booked around Serengeti National Park and you will have the best of evening/night game drive to see leopards, lions, cape buffaloes, elephants, rhinos, birds and more.
Meal plan: Breakfast, Lunch & Dinner
Accommodation
• Budget: Sayari Mara Camp/Camping
• Mid-range: Serengeti Migration Camp/Grumeti Migration Camp
• Luxury: Four Seasons Safari Lodge Serengeti/Singita Sasakwa Lodge
Day 6 to 7: The Great Migration- Full Day
Enjoy a complete 2-day wildebeest migration experience starting from day 6 to 7. Explore the different Great Migration paths to watch millions of wildebeests, plus thousands of gazelles, elands, zebras all accompanying them. In addition, a large population of the big five game will be spotted including lions, elephants, leopards, rhinos, buffaloes and more.
Meal plan: Breakfast, Lunch & Dinner
Accommodation
• Budget: Sayari Mara Camp/Camping
• Mid-range: Serengeti Migration Camp/Grumeti Migration Camp
• Luxury: Four Seasons Safari Lodge Serengeti/Singita Sasakwa Lodge
Day 8: Serengeti to Arusha- Departure
Exit Serengeti for Arusha airport where your departure flight will set off or be dropped at the hotel for relaxation.
End of migration safari
Safari includes
• Bottled water
• Game drives
• Wildebeest migration
• An English-speaking Tanzania safari/driver guide
• Travel in 4WD vehicle
• Accommodation

Safari excludes
• Tips
• Insurance
• Flight costs
• Visas
• Laundry
• Cigars
• Telephone bills
• Shopping
Lets Go Tours Rwanda is your best guide on this 8 Days Tanzania wildebeest migration safari in Serengeti, Ngororongoro and Lake Manyara National Parks