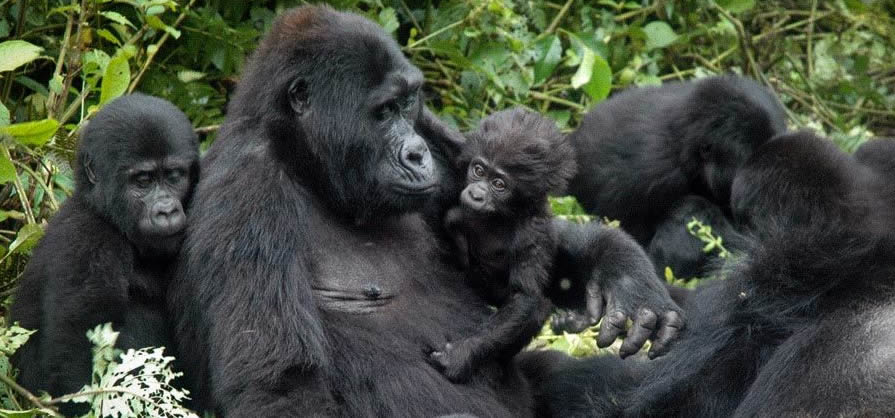 There is no standard price or cost of gorilla trekking in Africa. Budget, mid-range and luxury gorilla safaris all cost differently and every tour operator has its own computation style hence variation in the costs. With gorilla trekking tours proven to be one of the top adventures in Africa, anyone planning to engage in this lifetime experience requires to be prepared. Part of the preparation includes understanding your gorilla trekking costs.
The cost of gorilla trekking in Africa is determined by key elements especially transport, accommodation (where to stay on gorilla tour), gorilla permits, meals, tipping and other personal expenses such as porter fees. A 3-day gorilla safari in Uganda for instance can cost roughly USD1200 to USD2900. Usually, majority of trekkers visiting Africa for gorilla trekking contact a local operator to arrange their trip package -it is the simplest way to have things done.
The above costs are just estimate figures and you shouldn't consider it actual price because figures may change depending on the tour operator. Looking at influencing factors to gorilla trekking cost, gorilla permits often have fixed rates for given period of time. Conservation authorities such as Uganda Wildlife Authority (UWA), Rwanda Development Board (RDB) often make review of gorilla permit prices after a period of 2 years or more.
Gorilla permits provide tourists permission to access their park of choice to track mountain gorillas. The cost also covers park ranger guide services, one (1) hour encounter with gorillas, etc. All gorilla permits in Africa are highly regulated systems and park authorities can control human-gorilla interaction and help them generate required revenue to facilitate conservation activities.
Availability of gorilla permits is restricted by habituated gorilla groups and number of tourists permitted to visit each group. Every permit comes with unique serial number and tourist details. They can't be transferred and also, they non-refundable except where medical matter arises and medical certificate is needed as proof. Valid passport is required for booking gorilla permit.
Gorilla permit costs
In Africa -the key gorilla trekking regions include Uganda, Congo and Rwanda. Each of these countries have their own rates set for gorilla tracking permits. In Uganda, permit go at USD700 per tourist per trek. Gorilla habituation permit at USD1500 per foreign non-residents, foreign residents USD1000 and Ugandans & East African nationals/citizens UGX250,000 per person per trek.
During gorilla trekking tourists enjoy one hour of close encounter with gorillas while on gorilla habituation, you have 4 hours. In Rwanda, a single gorilla permit per guest costs USD1500 -it is a high-end luxury gorilla safari destination. Note, mountain gorillas are fewer than 1063 in the world, half of them are in Uganda. The cost of permit is slightly higher because it is one way to regulate gorilla tracking since these apes are susceptible to human infectious diseases.
In Uganda, over 168 permits can be issued in a day because there are 21 habituated gorilla families. The primary source of funds for conservation is gorilla permits. Booking a permit or entirely your gorilla tour in Africa plays a great part in conservation of these endangered species, their habitat and other wildlife.
Accommodation
Once a permit has been secured, accommodation should be sorted. In Uganda, Rwanda and Congo, there are accommodation facilities in different categories: budget, midrange and luxury. A budget lodge can cost from USD30 to USD100. Standard/midrange gorilla safari lodges are available at USD100 to USD250, luxury cost between USD300 and 1500.
In Rwanda, it is possible to organize a 1-day gorilla tour because it takes you only 2-3 hours to access Volcanoes National Park. A 1-day gorilla trip can cost USD1700 per visitor while 2 days gorilla safari from USD1900, 3-day luxury gorilla tour ranges from USD2000 and 5000.
In Uganda, 3-day gorilla tour- budget can cost roughly USD1200 per guest inclusive of gorilla permit. A simple 3-day luxury gorilla safari in Uganda costs USD3000 and rates may rise when flights are included. Yes, it is possible to go fly in gorilla safaris -set off from Entebbe Airport to Kihihi or Kisoro airstrip where guests can connect to Bwindi Impenetrable National Park or Mgahinga to enjoy a gorilla trip.
Transport costs -Uganda, Rwanda & Congo
How you plan to reach to your park in Uganda or Rwanda for gorilla trekking is essential. First you should plan for your flight to Uganda (Entebbe airport) or Kigali (Rwanda). At times, majority of agencies/companies avoid processing international flight tickets and it is the client to do it.
Tour operators play key part in arranging your travel from airport or hotel in city to the gorilla trekking destination and back. These can be by flight or by road. By road, you require a regular a 4×4 safari vehicle to help you connect up to the park. In Uganda, you can spend from 8-10 hours driving and by air, 2 hours. In Rwanda, the drive time to Volcanoes National Park from Kigali is 2-3 hours.
Different sizes of vehicles cost differently -a small 4×4 car costs between USD40 and 80 per day. Medium 4×4 USD80 and USD120 per day while a safari 4×4 Land Cruiser from USD150 and USD300 a day. The costs are exclusive of fuel and in some instances, drivers/guides are catered for depending on the tour operator- find out before you commit yourself.
Porters
Porters are hired for some reason on gorilla trekking. The key part porters play is assisting guests with their heavy luggage (lunch and any other items). They carry your luggage and it allows you have full concentration on your adventure. They can also help pull you especially in muddy areas or thick vegetation in case you get stuck. By involving them in gorilla trekking, they benefit as part of the local community living adjacent to these parks.
Tips
Tips aren't included on final cost of gorilla safari in Africa. You can plan for it because at the end of the day, you may want to appreciate the good service provided to you by your driver guide, park guide, waiter, waitress, etc. s