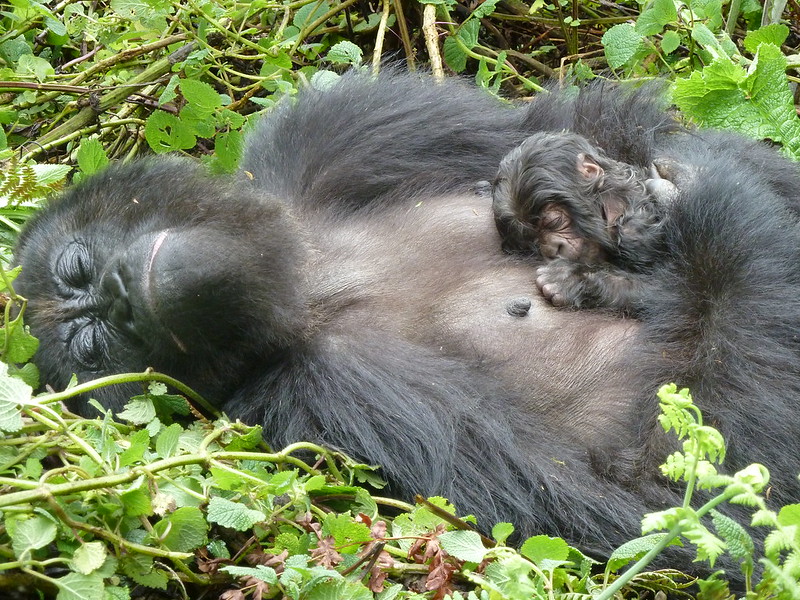 Trip Overview
The 5 Days Congo Gorillas & Nyiragongo hiking safari is an exceptional package to explore the beauty in the Democratic Republic of Congo.  Enjoy guided mountain gorilla trekking  and Nyiragongo hiking adventure with Lets Go Tours Rwanda rewarding you with  a lifetime experience. Virunga National park is home to over 300 mountain gorillas making it one of the four parks where gorilla tours takes place. There are 8 gorilla families habituated in Virunga National Park each visited by a group of eight people per day. A permit to see gorillas in Virunga National park costs $450 which is cheaper compared to $700 in Uganda and $1500 in Rwanda. Virunga is therefore the best place for budget gorilla tours in Africa. The 5 Days safari also include a hike to the summit of Nyiragongo Volcano. Enjoy the 5-6 hours hiking adventure to explore the summit of the active Nyiragongo and get chance to peep into the world's largest lava lake with boiling magma. The summit an slopes of the volcano offer you scenic views of other Virunga Volcanoes , Virunga National park and Goma town.An Overnight stay at the summit offers you chance to clearly see the boiling lake. Combining mountain gorilla trekking and Nyiragongo hiking adventure is a lifetime experience you will live to cherish. Other things to see and do in Virunga National park include monkey trekking, bird watching, nature walks, chimpanzee trekking and cultural tours among others. This is an epic safari adventure ideal for all adventure seekers to Africa. Safari starts and ends in Kigali crossing into Congo via Gisenyi.
Trip summary
Day 1: Transfer to Goma
Day 2: Mountain Gorilla Trekking Virunga NP
Day 3: Nyiragongo Hike
Day 4: Descend the Nyiragongo volcano relax in Goma
Day 5: Departure via Rwanda Kigali
Detailed Itinerary
Day 1: Transfer to Goma
You will be picked up by our company representative from Kigali International airport for a
Drive to Goma – Congo via Gisenyi province, En route stop over at Nyanza King's palace, Murambi and Butare Genocide memorial sites. Dinner and overnight at Orchid Safari Lodge(luxury), Ihusi Lodge( Midrange) and Hotel Horizon(Budget).
Day 2: Mountain Gorilla Trekking Virunga NP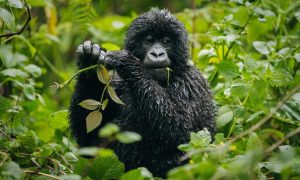 Enjoy breakfast and head for Bukima park offices for morning briefing on the code of conduct when trekking for mountain gorillas, later with your tracking gear, embark on this amazing exercise. After a duration of 3 and 6 hours, you locate the intruding creatures, enjoy an hour with them before retrieving the starting point for your return to the lodge. In the afternoon, if you wish, take a stride to Kibati waterfalls, or engage in a guided forest nature walk. Dinner and overnight at Orchid Safari Lodge(luxury), Ihusi Lodge( Midrange) and Hotel Horizon(Budget).
Day 3: Nyiragongo Hike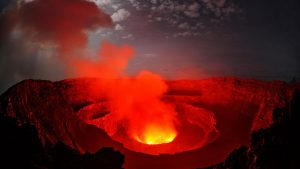 Have breakfast and set off for Nyiragongo base mountain base in Congo at Kibati Mount. Upon arrival (7:00am), head to the headquarters for registration and briefing on the hiking exercise.aThe hike to the top lasts between 6 -8 hours with 4 breaks depending on one's experience and capability. At the top of the volcano, take in the beautiful views overlooking the Virunga region. Dinner and overnight at the top of the Nyiragongo mountain.
Day 4: Descend the Nyiragongo volcano relax in Goma.
Rise to the humming birds and get ready for your hike down the Nyiragongo, on touching the base, take time to visit Goma city with overnight in Goma.
Day 5: Departure via Rwanda Kigali
After breakfast, check out of the hotel/lodge and drove crossing over to Rwanda for your departure flight at Kigali International Airport.
End of the tour
Tour Inclusions
Nyiragongo hiking permit
Mountain gorilla permit
Full time English speaking guide
Ground transport
Accommodation in the bandas
Miscellaneous
Meals
Bottled drinking water
Tour Exclusions
Tips
Porters fee
Extra activities not included in the itinerary
Visa fees
Other Personal expenses