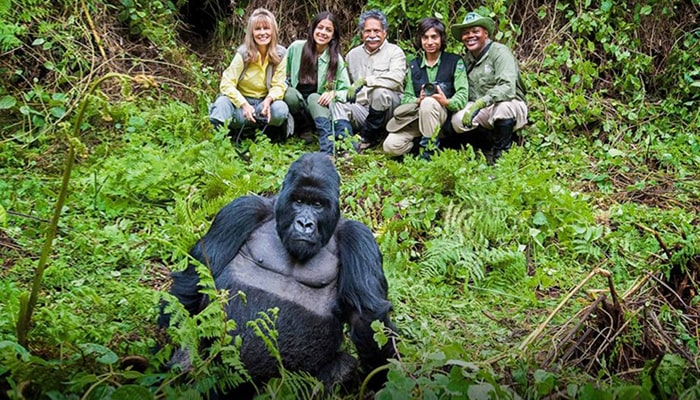 What makes Uganda the best gorilla tours destination? There are multiple reasons why Uganda is not only a preferred African safari destination and especially for gorilla safari tours. Mountain gorillas survive only in the natural environment and tracking them in the lush tropical forests in Africa is a lifetime experience.
Strictly 3 countries inhabit mountain gorillas -Uganda, Rwanda and Congo. Visiting a habituated family of these large apes involves winding via tropical forest in Bwindi or dominated volcanic Virunga region: Mgahinga Gorilla National Park, Virunga and Volcanoes National Park. About 1063 mountain gorillas still survive in the wild unlike only 254 in 1981. Growth in their number is attributed to continuous conservation efforts.
Mountain gorillas don't live in captivity and visiting them involves trekking up to high elevation of 2500-3500m. Normal treks take 2-6 hours and these include one hour of seeing them face-to-face.
Here are the top reasons that make Uganda the best gorilla safari destination
Two (2) gorilla trekking spots are all in Uganda
There are only 4 parks to see mountain gorillas in their natural environment. Uganda alone has 2 spots for tourists to be part of the thrilling guided gorilla trekking experience. Gorilla trekking locations in Uganda: Mgahinga Gorilla National Park, Bwindi Impenetrable National Park. This alone makes Uganda a special place worth visiting for gorilla safaris in Africa.
Home to half of the world's mountain gorillas
Mountain gorillas are very few unlike other wildlife species. Only 1063 of these rare species still survive on earth and strictly in Uganda, Rwanda and Congo. With over half of them surviving in the jungles of Uganda, 459 of which roam in the Bwindi Impenetrable Forest. Bwindi Impenetrable National Park also dubbed as the place of darkness is a recognized UNESCO World Heritage Site. The park prides itself as a biodiverse destination and several endangered species all concentrate here.
Bwindi Impenetrable National Park located in Southwestern Uganda was founded in 1991 and today, it sits on 331sq.kms of land area. Mgahinga National Park is the smallest not only among the 4 gorilla trekking locations but also entire Uganda National Parks.
Mgahinga was founded 1991 with Bwindi NP and it occupies only 33.7sq.kms of land area. It features three scenic Virunga Volcanoes: Mt. Muhabura, Mt. Gahinga, and Sabyinyo volcano.
Largest mountain gorilla families
Compared to any gorilla safari destination, the biggest number of habituated gorilla groups live in Uganda. 21 habituated gorilla group families survive in Bwindi and Mgahinga Gorilla National Parks. In Bwindi National Park, 20 habituated groups exist in the 4 sectors: Ruhija, Buhoma, Rushaga and Nkuringo; one group -Nyakagezi that roams in the jungles of Mgahinga Gorilla National Park.
The gorilla groups in Uganda: Nyakagezi, Christmas, Rushegura, Nshongi, Mubare, Kyaguriro, Mishaya, Habinyanja, Bushaho, Kahungye, Busingye, Bweza, Katwe, Oruzogo, Bikingi, Bitukura, etc. These and more 5 sectors are all available for mountain gorilla trekking

Uganda offers ultimately incredible gorilla trekking experience in all the 5 sectors or regions. Congo and Rwanda all have single sectors where gorilla treks to see mountain gorillas are done. Uganda's 5 gorilla sectors/regions: Ruhija, Buhoma, Nkuringo, Ntebeko, Rushaga. 4 of these regions are in Bwindi (Rushaga, Ruhija, Buhoma and Nkuringo).
Affordable gorilla permits and safest gorilla safari destination
From gorilla trekking permits to accommodation facilities, Uganda stands out as the most affordable gorilla safari destination. Securing a gorilla permit in Uganda is just at USD700 for foreign non-residents, the foreign residents USD600 and shs. 250,000 for citizens in Uganda and the rest of East African states. In Rwanda, tourists are charged USD1500 per person to secure a gorilla permit.
How to book Uganda gorilla permits
In Uganda, gorilla permits are easier to be booked through a trusted tour operator/company. Get in touch with our reservation team and let's make your dream come true. Gorilla permits should be reserved in advance prior actual date of tracking to see gorillas. We advise that you do this at least 2-4/6 months earlier and you won't be disappointed. Lets Go Tours Rwanda is your trusted travel agency to boo and resrve your Uganda gorilla permits.
Peace and security
Gorilla Trekking addons

Between Kampala and Bwindi or Mgahinga Gorilla National Park, tourists have countless attractions to explore.
The main destinations to incorporate into your gorilla trekking safari in Bwindi include Queen Elizabeth National Park. As you drive via Ishasha sector in the Southern Queen Elizabeth National Park, unique attractions such as the tree climbing lions are a must-see. Lake Mburo National Park for impalas, leopards, zebras, giraffes, topis, buffaloes, elands, hyenas, birds, etc. Kibale National Park for chimpanzee tracking/habituation experience, birding, forest walks and more.
Other unique primates exist in Uganda including golden monkeys in Mgahinga Gorilla National Park, l'hoest monkeys, black and white colobus monkeys, grey cheeked mangabeys; chimpanzees, red tailed monkeys, blue monkeys, bush babies, pottos, vervet etc. Most of these primates can easily spotted on Uganda safaris in Kibale National Park, Budongo Forest, Kalinzu Forest and more. It is possible to combine golden monkey tracking in Mgahinga with gorilla tracking and other safaris.
Warm climate
Crossed by the Equator, Uganda experiences the most favorable weather and climatic conditions making it an all-year-round gorilla safari destination. The dry season offers the best conditions with trails kept drier making it a little easier trekking through the forest to see mountain gorillas. The dry months to consider when planning your Uganda gorilla safari: June, July, August, September, December, January, February.