Rwanda Tours; Gorilla Trekking & Wildlife Safaris in East & Central Africa
Lets Go Tours Rwanda offers you guided gorilla trekking tours to Uganda, Rwanda and Congo at a discount! Are you planning an African safari to see the endangered mountain gorillas in the jungle? Our gorilla safaris take you deep into the jungle forests of Bwindi Impenetrable Forest, Mgahinga Gorilla National park, Volcanoes and Virunga National Park.  In addition to gorilla trips, Lets Go Tours Rwanda offers customized  wildlife safaris, in the savannah park of Tanzania, Kenya, Uganda and Rwanda giving you chance to encounter big five and other numerous wild animals in the wilderness.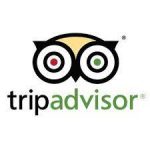 The great annual wildebeest migration in Serengeti and Masai National Park is a lifetime experiment you will live to remember. The amazing  chimpanzee trekking done in Kibale Forest Uganda and Nyungwe Forest is your opportunity to meet up with your close relatives. For adventure travelers, Lets Go Tours Rwanda offers guided  mountaineering tours to conquer the active Nyiragongo Volcano in Virunga National park Congo, The snow capped Mount Rwenzori in Uganda and the iconic Mount kilimanjaro in Tanzania among other mountains across Africa.  With over 10 years of service in the tours and travel industry,  Lets Go Tours Rwanda has arranged numerous short and long  gorilla trips and other other wildlife safaris or solo and group travelers. Our  cultural tours to the Gorilla Guardian Village and other cultural sites in Uganda, Rwanda and other African countries give you chance to learn different traditions, norms, cultures and beliefs of African people. 
We offer custom trips from budget to luxury holidays for all kinds of travelers. Our tours extend to the rest of East Africa to cover Kenya wildlife safaris, Tanzania and Zanzibar.
EXPLORE TOP TRAVEL DESTINATIONS IN AFRICA WITH LETS GO TOURS RWANDA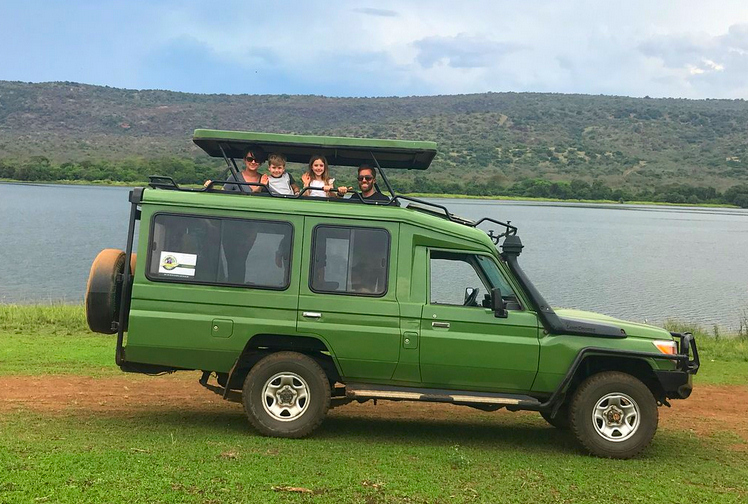 WHY TRAVEL WITH LETS GO TOURS RWANDA?
Experience – Lets Go Tours Rwanda has over 15 years experience in handling clients who visit East Africa.

Our  driver guide guides are born and raised in East Africa with vast knowledge  about wildlife, culture,  and people

We offer pocket friendly safaris. All safaris are tailormade to meet our clients budget and time

We custom design safaris to match your travel style and dreams.

Our vehicles are specially designed with quality and comfort in mind
Featured Gorilla Tours & Wildlife Safaris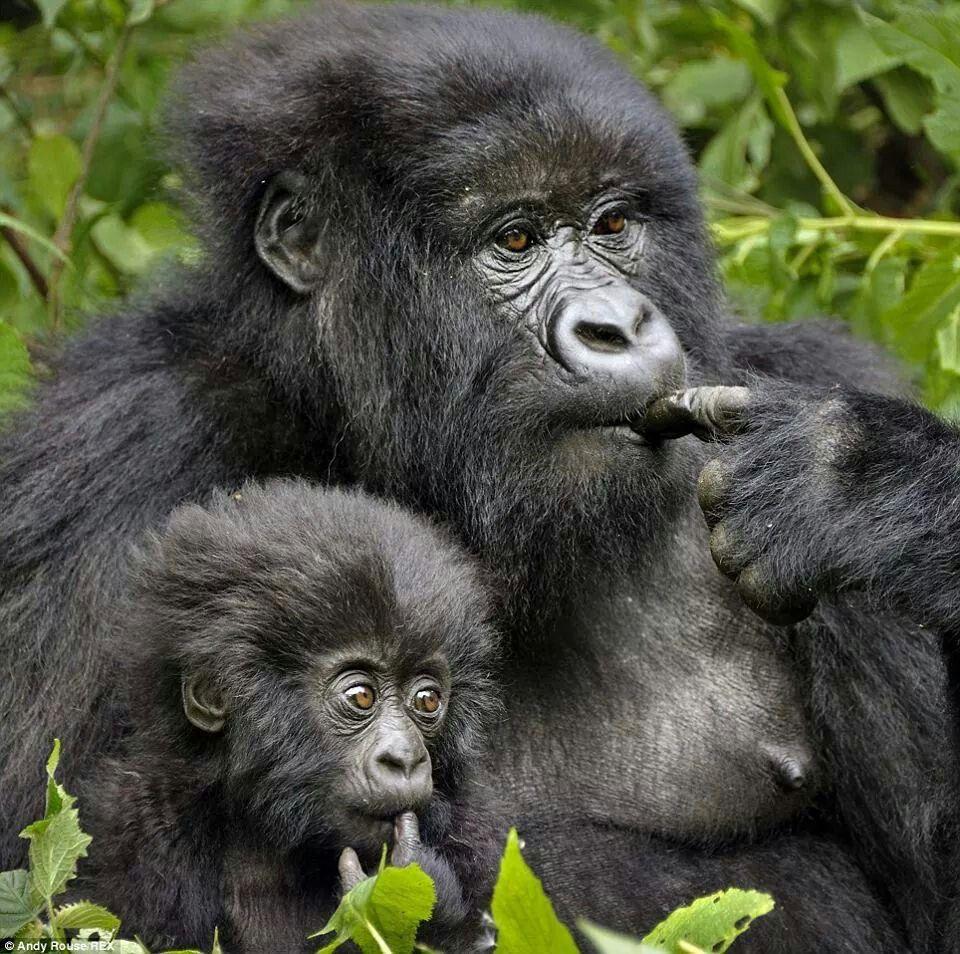 Trip Overview This 3 Days Rwanda Gorilla Tour takes you to Volcanoes National Park located in North Western Rwanda. Volcanoes …
Classic Game Viewing Tours
Guide to Gorilla Trekking in Uganda, Rwanda and the Democratic Republic of Congo
Since gorilla trekking is the best wildlife experience which bring most travelers to Africa, Lets Go Tours Rwanda gives you a detailed guide on gorilla tours in Uganda, Rwanda & Congo. Before confirming any gorilla safari to Africa, travelers are advised to read these common questions and their answers to ensure a lifetime experience.
Where is the best place to trek gorillas?
Uganda, Rwanda and the Democratic Republic of Congo are the only places to see mountain gorillas in their natural habitats. There are roughly 1006 mountain gorillas surviving in the jungles forest of Bwindi Impenetrable Forest and the Virunga Conservation Area shared by Mgahinga Gorilla Park in Uganda, Virunga National Park in Congo and Volcanoes National Park in Rwanda. Uganda is home to half of the world's total population followed by Rwanda. Gorilla trekking experience in each country is exceptional and unique in its own kind. You can do gorilla treks in all countries for better comparisons and experience.
What is the cost of gorilla trekking in Africa?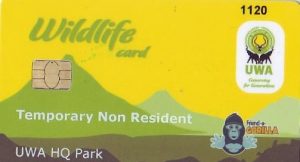 Gorilla trekking costs depend on which country you chose to visit for these endangered species. In Uganda, each gorilla permit costs $700 for foreign nonresidents, $600 for foreign residents and UGX 250,000 for East Africa citizens. In Rwanda, each permit costs $1500 while in Congo; a single gorilla permit costs $450. Rwanda offers the most expensive gorilla permits which make it a luxury gorilla destination compared to the neighboring Uganda and the Democratic Republic of Congo. The gorilla permit cost includes park entrance fee, conservation fee, government taxes and ranger guide fee.
When is the best time to see gorillas?
Dry season between June to September and December to February is rated the best time for gorilla trekking in Africa. This season is mostly dry with les or no rains which make it easy to trek through the jungles in search for the endangered gorillas. Travelers visiting in the dry season are advised to book gorilla permits as early as six months in advance due to high demand for these gorilla passes.
How long is gorilla trekking time?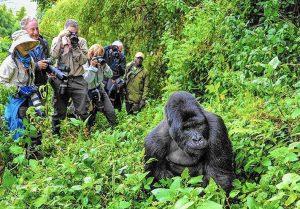 The length of gorilla trekking experience is not specific. This depends on the location of mountain gorillas and the physical fitness/hiking speed of travelers. The trekking time can range between 2 to over 8 hours. However, the allowed time with the endangered gorillas is strictly an hour counted from the time you meet the gorillas.
What is the age limit for gorilla trekking?
In all gorilla countries, the age limit is 15 years. This means that only travelers aged 15 years and above are allowed to trek the endangered mountain gorillas in Uganda, Rwanda and the Democratic Republic of Congo.
What to pack for gorilla trekking?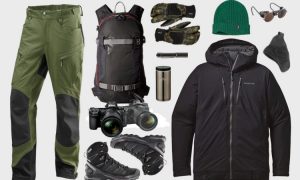 Travelers visiting gorillas are reminded to pack the right attires and other essentials to ensure a peaceful trek. Your gorilla trekking packing list should include hiking boots/shoes, gardening gloves, hat, sunglasses, rain jacket, Scarf, warm sweaters. The other essentials to carry include insect repellents, first aid kit, bottled drinking water, toiletries, energy giving snacks and emergency medicine.
What are gorilla trekking add-ons?
There are many interesting activities you can add on your gorilla trekking experience. These include chimpanzee trekking, cultural tours, bird watching, mountaineering, game viewing, nature walks, golden money trekking, camping, wildebeest migration and city tours among others. These complement gorilla trekking making your African safari more enjoyable. Depending on you available time and budget, you can choose any additional activity to do along your gorilla trekking experience.
How many people are allowed to visit a gorilla family?
Each people are allowed to visit a gorilla family each day. Tis means that each gorilla family has 8 permits available for travelers.
What about gorilla habituation experience?
Gorilla habituation experience is the act of training wild gorillas to familiarize them with people. The 2-3 years' experience takes place in Rushaga sector in southern Bwindi Forest. Apparently, 2 gorilla families are undergoing habituation experience and only four people are allowed to visit each family. There are therefore only 8 habituation permits available every day. Travelers are allowed to spend four hours with the wild gorillas in the jungle.
What are the rules and regulations of gorilla trekking?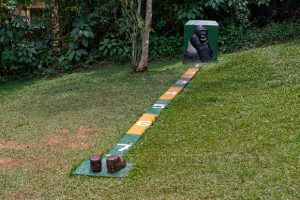 At the start of each gorilla trekking day, travelers are briefed on the rules and regulations of gorilla trekking experience. These guidelines have been put by conservation bodies in Uganda, Rwanda & Congo to ensure safety of the endangered gorillas and travelers. These include:
• Keep a distance of 7 meters away from the gorillas
• Do not trek gorillas when sick
• Do not look direct into the eyes of the gorillas
• Do not eat or drink when with the gorillas
• Do not touch the gorillas
• Do not use flashlight cameras
• Do not litter anything in the park. Leave only the footprints
• Do not pluck any vegetation from the park
• Follow the footsteps of your ranger guide
• Use a low tone when communicating
• Spend strictly an hour with the gorillas
• Keep within your group/ do not move away from your group members.
Validity of gorilla permit
The mountain gorilla permit is valid for an hour. After seeing the gorillas, the permit is claimed expired.
Do I own the gorilla permit?
No, travelers do not own the gorilla permit even after paying. The permit remains a property of the respective government. At the start of the trekking day, travelers are asked to submit gorilla permits to the park managers. Permits are recycled and reused.
What I fail to see the gorillas?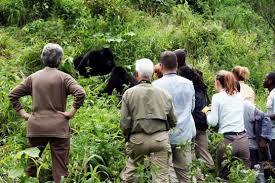 In rare cases when travelers fail to see mountain gorillas after a full day of searching, they are given a second chance to trek again without paying. However, if a traveler fails to see gorillas due to his/her weaknesses such failure to hike or sickness, he/she loses the permit and the chance to trek. He will be asked to pay again for another trekking chance.
Can the elderly and travelers with disabilities trek gorillas?
Yes, elderly and physically unfit travelers also have a chance to trek gorillas. There are sedan chairs at the park headquarters for hire. Here travelers are lifted to and from the jungle by local porters.
Check Some of Our Happy Client's Reviews

Two tours with different outcomes I had two separate tours through them in June 2019 and January 2020. The first one was outstanding, the second was not great. The vehicle broke down on the drive to Volcanoes park and the driver showed up drunk one morning to pick up our group. They were responsive to find a new driver within 2 hours, but did not make any compensation for the two inconveniences encountered. Overall, they are fine but there may be better options in Rwanda.

An immersive experience We had a one day package to visit Musanze and Gisenyi and I highly recommend it for locals and tourists who want to get more perspective of what Rwanda has to offer outside of Kigali. We visited the Iby'iwacu Cultural Village in Musanze which was an immersive learning experience about Rwandan culture. In Gisenyi, we took a boat trip around Lake Kivu which was my favourite part of the trip. The overall trip was stress-free because of the punctuality and knowledge of our guide, Fred. He was a safe driver and the car was beyond comfortable which meant I had no choice but to doze off! The day was incredible and well planned and I look forward to trying out other tour packages by Let's Go Tours next time I'm in East Africa.

Fantastic Adventure with Let's Go Tours Rwanda Visiting Rwanda for the very first time, Let's Go Tours truly added to my overall quality experience. I really appreciate the driver Fred's friendly manner and sticking to the agreed super early picking up time. Musanze was the first stop where the group and I got to visit Ibyiwacu Culture Village learning about ancient Rwandan life and the king daily activities. Views of the volcanoes from the culture village are incredible. The next destination was Gisenyi where Fred found us a lovely restaurant with a wonderful view of lake Kivu and organised a boat trip to the different small islands within the lake. I would highly recommend and definitely be a customer in the near future.

Travelled with Lets Go Tours and it was such a smooth journey! We had an awesome trip and Fred, our driver, was truly a gem! Travelling in the spacious safari car and resting our heads on the soft pillows, made driving up the hills of Gisenyi seem shorter than usual. Fred took us to our first stop over which was at Ibyiwacu Cultural Village. You're first greeted by the locals and who are singing and dancing, it was incredible. They shared their stories with us and it was truly a once in a life time experience. Arriving in Gisenyi, we stopped at Paradise for lunch. Munching on fish brochette and the view of lake Kivu behind you was incredible. Fred then took us to our boat ride, which took us arround lake Kivu. The guides shared the stories behind the islands of Kivu as we soaked in the incredible views. Stopping over at Hot Springs was fascinating seeing the locals getting massages, boiling corn and bathing in the hot water. Soon we made our way back to Kigali! This was by far the best trip I've taken and I'm glad it was with Lets Go Tours!

A once in a lifetime experience, still in awe! Let's Go Tours provided us with an incredible day package to Musanze and Gisenyi! Our guide was Fred aka the coolest most amazing tour guide. In Musanze we visited 'Iby'iwacu culture village' where we were welcomed by the locals and learnt so much about Rwanda's pre-colonial past, different traditions and much more! We then set off to Gisenyi and expierenced the most beautiful Lake aka Lake Kivu! I would repeat that day 10000 times over. All in All; incredible service in the most breathtaking regions of Rwanda! Thank you to the entire Lets Go Tours Rwanda team! We can't wait for our future trips with you guys!
Excellent day safari in Akagera We had an excellent trip with Lets Go Tours last week which consisted of 3 days and 2 nights in Akagera. We were picked up in Kigali and our driver, Innocent, drove us to Akagera where we did 2 half day and 1 full day game drives as well as a boat safari. He was very knowledgeable and interacted brilliantly with our young children. We saw a huge amount of animals including lions, elephants, giraffes and zebra and Innocent spoke at length about their habits and was excellent at spotting them/knowing where to look for certain species. Our online payment didn't work so Patrick from the office picked up our payment from our hotel – he provided a fantastic service from initial enquiry right up to our tour date and responded quickly to all our enquiries. Would highly recommend this tour company – excellent value for money and a very memorable safari.

Breathtaking tour with very knowledgeable guide! William was a stellar guide! He was both incredibly kind and a wealth of information. With a background in tracking and animal tours, he was able to provide brilliant background knowledge about the animals, as well as a knack for tracking them down himself in the wilderness areas (or just on the side of the road). He also told us all about Ugandan life, as someone who grew up and continues to live and farm near Kampala. William also was a huge advocate for me when uncontrollable events caused changes to our itenerary. One day, the planned river boat tour was cancelled (out of our control) and he personally contacted a friend with a boat to go ahead with the tour anyways. He was fighting for our best experience! William was also a pleasure to spend so much time with over the course of our tour — very friendly, funny, and engaging. He also was always able to strike up conversations with other locals, who clearly appreciated his warmth (and his knowledge of local dialects). Overall, I couldn't not have had a better experience with William and I highly recommend any trip with him as a guide!

Adventures_travel123
2018-09-12
Great arrangements and excellent guide, Elias! We did a one-day tour to Huye (Butare) in southern Rwanda that worked out very well. We also did a 3-day trip to Volcanoes National Park and Musanze, including a visit with the gorillas and golden monkeys, as well as the Musanze caves and the Twin Lakes. All of this was well arranged. We give very high marks to our guide Elias, who is also a expert birding guide and knows every bird in Rwanda!

Highly Recommended! Great knowledge, advice and assistance in all aspects of travel Highly recommended! Very knowledgeable and helpful with all aspects of research, planning, and booking your trip. With a friend, I planned a self-drive vacation, and was helped in ensuring the two week itinerary was possible, booking the lodging, recommending car rental agencies and securing our trekking permits–all hassle free. I dropped by the pleasant office in the heart of Kigali and was warmly welcomed. You are in good hands with Lets Go Tours Rwanda!

Amazing tour We arrived in Entebbe/Uganda and the driver picked us up for the 10h drive incl. breaks to Bwindi National Park. We wanted to stay in the gorilla safari lodge, so we paid one total amount incl. the Gorilla Tracking. It was really amazing the next day when we went to see the nice animals! The third day we went back to Entebbe in 8h because we had a flight to catch. Ask for Emma to be your driver! He was really cool and easygoing! He really likes music and allows you to put yours as well! Thanks again for the amazing expedition!
How Much is a Uganda Safari Cost?
How Long Does a Gorilla Trek Take?
What o Wear For Gorilla Trekking?
Is Gorilla Trekking Worth the Money?
Nyiragongo Volcano Hiking Guide