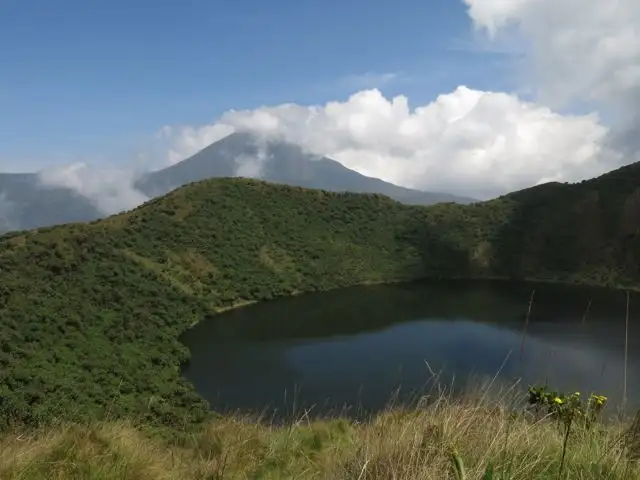 Volcanoes National Park is situated within the Virunga Region, North-western Rwanda and this is a region with a chain of 8 volcanoes making it a significant hiking destination in Africa. It shares borders with other Virunga region parks such as Virunga National Park in the D.R. Congo and Mgahinga Gorilla National Park -Uganda.
Volcano climbing in Volcanoes National Park is one of the few amazing adventures awaiting you in Rwanda with Lets go tours Rwanda. Volcano hiking safaris in this Rwanda park is a great opportunity to conquer two spectacular volcanoes: Karisimbi and Bisoke. Other Virunga volcanoes on the Rwanda side include; Muhabura, Gahinga and Sabyinyo. This Rwanda Volcanoes National Park home to all five of the eight Virunga volcanoes.
Volcano climbing is a perfect addition to gorilla trekking in Volcanoes National Park. Hiking to the summits of Karisimbi and Bisoke exposes you to natural beauty. This is characterized by scenic forests, distinct vegetation zones, crater lakes, wildlife at the lower altitude. Majority of species here are the endemic Albertine rift species.
Karisimbi volcano climbing
Climbing Karisimbi volcano Rwanda is a lifetime opportunity to conquer great heights of the tallest Virunga volcano – Karisimbi. Mt. Karisimbi has altitude range of 4507m, making it East Africa's 5th tallest. In some months of the year, its summits are covered with snow and it is a preferred hiking spot for enthusiastic hikers visiting Rwanda.
Unlike other Virunga volcanoes, Karisimbi only requires you to have 2 days. Day one is for you to trek to the summits and a night is spent at altitude 3700m and day two you finish up to the final peak then return to the base area.
To climb Karisimbi, you should have hiking permit each costs USD400 per trekker. You arrange a tour and also secure a permit with our team. We even go further to book accommodation, transport for you.
Mount Bisoke volcano climbing
Situated at the Rwanda border with Congo is Mt. Bisoke (3711m). This is a dormant Virunga volcano worth conquering on mountain climbing adventure in Rwanda's Volcanoes Park. It has a spectacular summit covered by Crater Lake – Lake Ngezi and at its peak, you enjoy uninterrupted view of other chain volcanoes including Congo's Mikeno volcano.
Hiking Visoke or Bisoke comes with its own challenges though even inexperienced climbers make it up to the summits of this volcano. Climbing through Bisoke is 6 hours round adventure: 4 hours for ascending and 2 to descend. Volcano climbing fees for Visoke are USD75 per climber inclusive of guide services, hiking experience etc.
When to travel for volcano climbing -Volcanoes Park Rwanda?
The dry season is the best time to enjoy volcano climbing in Rwanda Volcanoes N. Park. The park's and volcano's trails are passable during the dry season: June to September, December to February. Wet or rainy season is an important season for climbing adventures but because of heavy rains, the trails turn muddy, slippery.
Preparing for your volcano climbing adventure – Rwanda safari
Carry essentials for hiking Karisimbi and Bisoke including gardening gloves, waterproof hiking boots/shoes, gaiters, camping gear (sleeping mat, sleeping bag, tent); long pants, rain jacket or poncho, long-sleeved shirt, insect repellent, first aid kit, daypack and more.
Other significant hiking spots in Rwanda Volcanoes Park;
Mount Muhabura
Lying at border between Uganda and Rwanda, Mt. Muhabura (4127m) is another key hiking location in the Virunga region. At the summits of Mount Muhavura, hikers can clearly view Lake Burera and Ruhondo -the scenic twin lakes. Mt. Muhabura is 6 to 8 hours' round hiking adventure and does require some level of fitness.
Gahinga Volcano
Mt. Gahinga (3474m) offers shorter hikes to its summits and it isn't frequently hiked like Visoke/Karisimbi. It is ideal for none-seasoned climbers on Rwanda hiking tour in Volcanoes National Park.
Dian Fossey tomb trek
Dian Fossey tomb trail experience gets you the best of Dian Fossey conservation especially on gorillas. She was a strong advocate to gorilla conservation and plight of mountain gorillas was spread by her. A good number of incredible things were done by Dian Fossey and exploring them on your trek through her trail can be rewarding.
For over 18 years, Dian Fossey was carrying research on gorillas in the Virunga Area of Africa. Unfortunately, her life was cut shot when she was mysteriously murdered. Her body was laid to rest near her beloved Digit gorilla. She was brain behind Karisoke Research Centre and Dian Fossey Fund -all these are still operational aiding the work Dian Fossey began.
Mt. Sabyinyo (3669m)
Sabyinyo is another extinct volcano lying at the borders of all the 3 Virunga region states: Rwanda, Uganda and Congo. This means, it is found in all the 3 national parks in the Virunga Area: Mgahinga National Park (Uganda), Virunga National Park (Congo) and Volcanoes NP Rwanda.
Volcanoes National Park
Volcanoes National Park is a beautiful Rwanda safari park, a home to 30% of the world's mountain gorillas. It is a compact protected area with borders stretching 160sq.kms, approximately 2-3 hours from Kigali. The park is also the oldest in Rwanda, founded in 1925 and inhabits incredible attractions besides volcanoes.
There are world's important mammals residing in Volcanoes Park including the endangered mountain gorillas + other monkeys, buffaloes, forest elephants, over 200 bird species, majority comprised of Albertine rift endemic species. Birds of nature lovers' interest: strange weavers, Rwenzori double collared sunbird, Rwenzori batis, archer's ground robin, red faced woodland warblers, collared apalis, scarlet tufted malachite sunbird and more.
Other birds include lagden's bush shrike, dusky turtle dove, handsome francolin, Rwenzori nightjar, Doherty's bush shrike, grauer's swamp warblers, etc. The best months for birding: dry season or months -June, July, August and December, January to February. Migratory birds often come from November and April each year.
Accommodation -Volcanoes Park, Rwanda
There are many places to stay on hiking safaris or gorilla safari in Rwanda Volcanoes NP- existing of budget, midrange and luxury. They include Muhabura Hotel, Sabyinyo Silverback Lodge Rwanda, Mountain Gorilla View Lodge, Five Volcanoes Boutique Hotel, Da Vinci etc.