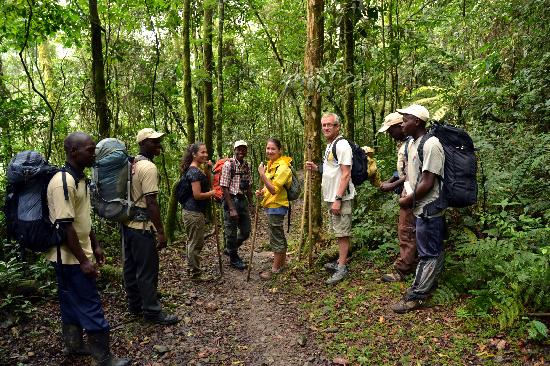 How long does gorilla trekking take? How long can it take to see mountain gorillas in the wild? Gorilla trekking is a special wildlife experience of its own and often described as unpredictable adventure. Normal gorilla treks in Uganda, Rwanda and Congo can take from 2 to 6 hours, but a number of factors come to play to determine above.
Trekking to see mountain gorillas or Grauer's gorillas/Eastern lowland gorillas is a journey involving walking through the dense tropical forests, steep slopes and perhaps muddy floor. But what is interesting is that for the years that have been in tourism, all our gorilla safaris in Uganda and Rwanda have never disappointed. Visitors have 99% chances to see the massive mountain gorillas in their natural environment.
Mountain gorillas occupy the dense African forests of Bwindi Impenetrable National Park, Mgahinga Gorilla National Park, Southwestern Uganda; Ruhengeri Region-Volcanoes National Park Northwestern Rwanda and the Virunga National Park Eastern Congo. This means tracking to see these massive creatures in the wild is only possible while on safaris in anyone of the above 4 protected areas in Africa.
Before you enjoy one hour of close encounter with the rare mountain gorillas, briefing is done early on gorilla trekking rules at the respective park offices. A walk through the forest to view mountain gorillas takes from 2 to 6 hours. This is determined by key factors such as;
Movement of gorillas
Mountain gorillas like other wildlife are never stationed in one point. Being wild animals, they roam in different areas for some reasons and they usually live in high altitudes. But treks to see them these days has been simplified, thanks to trackers efforts and habituation exercise.
Before a group of visitors set foot into the forest to look for assigned gorilla families, the trackers are sent to ascertain where they could have had a night. A number of signs are used to trace them including nests, etc. The lead park guide and trackers will always be in touch and the whole process becomes a little easier.
Nature of habitat
Mountain gorillas unlike the big 5 game live in high elevation range of 2500 or more. From their name, these apes reside in montane areas and generally these places require some good level of physical fitness. Rains can fall at any time of the day and the whole environment can change from normal to muddy, the steep slopes may become slippery and during the wet season, the vegetation can be dense requiring clearing etc. All these factors take time before you come across mountain gorillas.
Visitor fitness level
There is a reason why gorilla trekking accepts persons of 15 years and above. This is not the normal nature walk but engaging adventure where you will trek through the steep slopes, perhaps muddy/slippery ground, thick vegetation and so on. To keep fit, you need to exercise adequately and by so doing, you make yourself get used to tough terrains. The driver guide from Lets Go Turs Rwanda will help you get a suitable gorilla family suitable for you.
How to enhance your fitness level
Before you visit anyone of the African safari parks for actual gorilla trekking, you stretch. This can help boost your mobility and it can save you from minor injuries. Walk or hike for long distances while still in your home country or if you travel early to your desired destination, there are several hilly areas to exercise from in Kampala or Kigali.
Gorilla trekking rules
While on gorilla safari in Rwanda, Uganda and Congo, a number of gorilla trekking rules will be briefed to you and they should be adhered to. They include;
• There is only one hour designated for a close encounter with a group of mountain gorillas.
• Maximum number of visitors per gorilla family is strictly 8 and this is done once a day.
• All gorilla trekking adventures are carried out with lead of experienced park guides. They are assigned to every group comprising of 8 visitors.
• Valid gorilla permits are required on all gorilla safaris in Uganda, Rwanda and Congo.
• A distance of 10m should be observed while trekking mountain gorillas/grauer's gorillas in Africa.
• All tourists should be free of illness/sickness such as flu to avoid them spreading to gorillas.
• When with gorillas, the mouth or your nose should be covered especially when coughing or sneezing.
• Keep low your voices during Congo, Rwanda or Uganda gorilla trek.
• Don't touch gorillas when trekking and this is regardless of even when they get close to you, rub themselves to you.
When is the best time of the year to go gorilla trekking?
All gorilla safaris in Uganda, Rwanda or D.R. Congo can be done at any time/day/month of the year. But favorable weather conditions are experienced during the dry season making it the best time to visit Uganda or any gorilla tours destination for gorilla trekking. There is a long dry season often experienced from June, July, August to September/short dry season from December, January and February.
What you should wear/carry for gorilla trekking?
A successful gorilla trekking experience requires you to plan well/prepare appropriately and this includes how you pack. A good packing list for gorilla trekking is inclusive of waterproof hiking boots, sunglasses, cameras free of flashlight, long trousers, safari hat, long sleeved shirts, waterproof daypack, sweater, waterproof rain jacket or poncho, high energy giving snacks, bottled water, insect repellents, first aid kit, gorilla permits, toiletries and more.
Gorilla permits
Secure your gorilla permits early at least 2-6 months before actual visit to see gorillas in Uganda, Rwanda or Congo. In Uganda, foreign non-residents pay USD700 to obtain a gorilla permit, foreign residents USD600 whereas East Africans and Ugandans pay UGX250,000. In case your desired destination is Rwanda, gorilla permits are issued at USD1500 per person and in the D.R. Congo- each permit goes at USD400.
Note, it is in D.R. Congo where mountain gorillas and grauer's gorillas all exist but in different habitats. Virunga National Park in Congo is for mountain gorillas and Kahuzi-Biega, Maiko National Parks, etc protect the Eastern lowland gorillas.