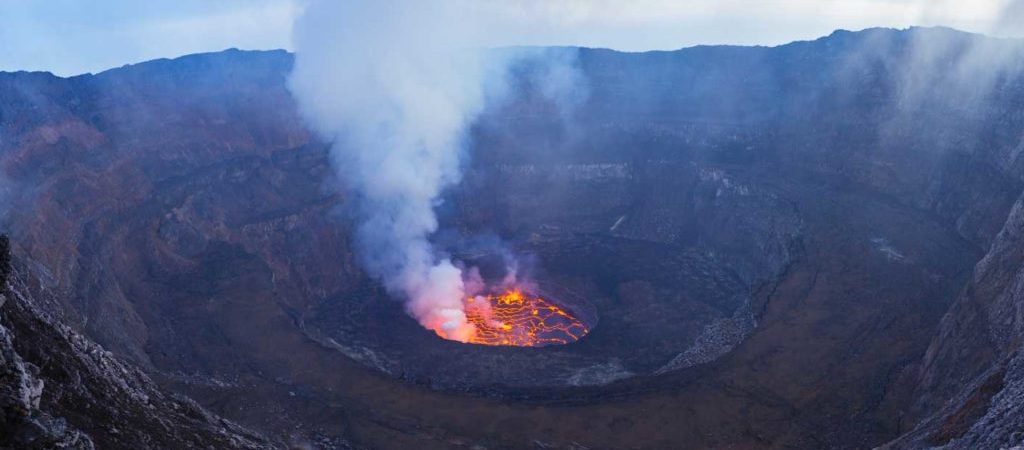 Hiking Nyiragongo is one of the key Congo safari highlights. Nyiragongo Volcano is part of the Virunga Mountain chain comprising of 8 scenic volcanoes. These scenic volcanoes dominate Uganda, Rwanda and D.R. Congo. They stretch from East to Central Africa along the Rift Valley where Lake Edward and Lake Kivu are located.
The Virunga volcanoes: Muhabura (4127m), Mt Sabyinyo (3669m), Gahinga Volcano (3473m), Nyiragongo Volcano (3470m), Mikeno Mountain (4437m), Nyamuragira (3058m), Karisimbi Volcano (4507m) and Mt. Bisoke (3711m).
Nyiragongo Volcano is a home to the biggest Lava Lake in the world. The main Crater at the summits of Mt. Nyiragongo has width of 2kms and 250m depth. It features a liquid Lava pool and it remains the most active volcanoes up-to-date. The base area inhabits a range of animal species: bushbucks, monkeys, etc. At the summits, tourists enjoy the strikingly glowing Lava Lake as it emits hot gases via its mosaic of molten Lava.
Mt. Nyiragongo has recorded multiple eruptions and the most recent on May 2021 displacing more than 500,000. It covered surrounding areas including Minova, Goma, Sake, Kiwanja and more. Previous eruptions occurred in 1884, 1898, 1900, 1982, 1899, 1894, 1905, 1994 to 1996, etc. Hiking to the summits of Mt. Nyiragongo starts at Kibati Patrol Post 1989m which is half hour's drive away from Goma town/city. A complete trek to Nyiragongo summits covers from 4 to 6 hours to conquer 3470m.
In the surrounding, there are two volcanoes: Mt. Shaheru and Baratu. These are typical signs of Nyiragongo's previous eruptions -cinder cones that dried creating volcanic rocks.
What you should know prior hiking Mt. Nyiragongo?
 Book your Nyiragongo Volcano hiking permit early through a registered company or agency.
 The hike is challenging but can be conquered. 4-6 hours is what you take to complete a hike to the summits.
 Hire a porter in Congo to help you carry your luggage.
 Never get very close to the edge of Mt. Nyiragongo.
 Be physically fit -hiking to the top of Nyiragongo volcano doesn't require you to be athlete. It is energy demanding hike to conquer 3470m altitude.
What to carry for hiking Nyiragongo Volcano?
Good hiking boots -waterproof: rains are unavoidable and should be expected at any time of the day. Strong and waterproof hiking or trekking boots with perfect grip are ideal for all hikes to the summits of Nyiragongo volcano.
Pair of socks: To keep you warm during the cold evening at Nyiragongo summits, one or two pairs of socks are required. Get super soft and fitting socks to be worn for cold.
Hiking pants: Waterproof hiking pants are essential for Nyiragongo hikes. They can help keep you warm and dry when trekking to the top of Nyiragongo volcano.
Gloves- you need good gardening gloves to keep you safe when holding something for support as you hike to the summits.
Dry bag -a dry bag is essential for all treks to Nyiragongo. This can be used for you to carry your camera and other valuable documents/items.
Hat – it can get hot depending on the time you plan to visit Congo for hiking safaris and a safari hat is key.
Other items: simple first aid kit, insect repellents, enough drinking water, snacks, sweater, etc.
Actual trek
A normal hiking tour takes 3 days or more to have a complete trek. You will need yellow fever certificate/shot, Congo visa and other documents which your tour operator can of great help to acquire on your behalf.
Cost of trekking Nyiragongo
Hiking fees for Nyiragongo in Virunga National Park are USD300 per permit. In addition, you should plan for porter fees as well in case of visitors who visit with heavy luggage. A porter can be hired at the briefing point in Kibati at USD24 and besides, plan for your gear. Acquire essential gear for your hike to avoid disappointments on actual date of conquering the summits of this remarkable volcano. Lets Go Tours Rwanda is your ultimate guide to book and reserve hiking permits to Nyiragongo Volcano.
When is the best time to go climb Congo's Nyiragongo Volcano?
Treks to the summits of Nyiragongo can be done at any time of the year. But, the most preferred time is during the dry season: June, July, August, September, December, January, February. These months come with ideal weather conditions characterized by low or no rains making the entire trek easier as you conquer the high altitude. But don't forget to pack well as stated above or advised by your tour operator or agency on ground.
Where to stay
Before trekking through Nyiragongo, you can have a night at the accommodation in the base area. On actual day at the Crater/summit, you will spend a night at Nyiragongo summit shelters. Here, you will have uninterrupted view of the glowing Nyiragongo Volcano.
Getting to Nyiragongo
By road: Nyiragongo is found in Virunga National Park, one of Africa's premier places to see gorillas in their natural environment. You can drive from Kigali via Gisenyi to Congo or fly to Goma and connect to Virunga National Park. Your tour operator can arrange for your ground travel to and from Congo and also accommodation etc.
Other Virunga Volcanoes
Mt. Mikeno
Located in Congo, Virunga National Park, Mount Mikeno is one of the scenic volcanoes in the Virunga chain volcanoes. It is the 2nd tallest peak in the Virunga area just after Karisimbi volcano. It is in an area most popular for mountain gorillas and also where Dian Fossey conducted her research that lived around Mikeno just close to Bukima Patrol Post.
Mount Karisimbi (4507m)
Hiking Mt. Karisimbi takes 2 days to and from the summits. This is the 11th tallest mountain in Africa and it is excellently hiked during the drier months: June, July, August. It is here where Karisoke Research Centre is situated a research facility Dian Fossey established in the 60's to aid her research work.
Bisoke 3711m a dormant volcano at Rwanda-Congo border and takes about 3 hours to hike up to its stunning Crater Lake. There is also Sabyinyo, Muhabura, Gahinga and Nyamuragira volcanoes.