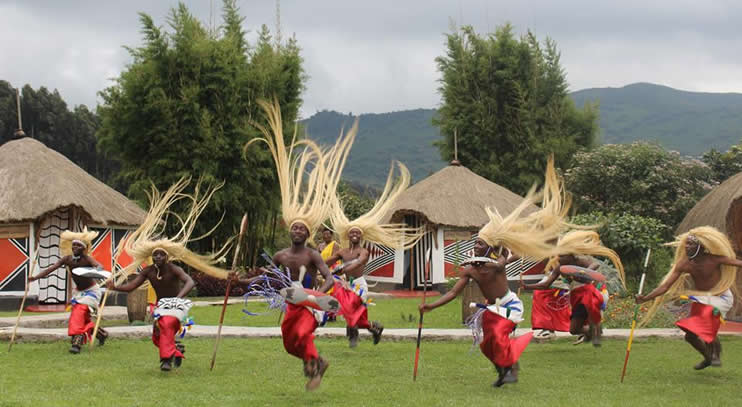 Visiting the Gorilla Guardians Village located in Musanze district is one of the interesting travel experiences for travelers on Rwanda safaris. Formerly known as the Iby'iwacu cultural village, Gorilla Guardian Village is a Center of cultural tours in Rwanda. The scene offers you opportunity to learn and experience Rwanda's traditions, norms and customs, which make this small country a unique destination. In most cases, travelers combine Gorilla Guardian Village with the famous mountain gorilla toursdone in Volcanoes National Park. If you want to experience Rwanda's culture and traditions, the Gorilla Guardian village is your best place to visit. Local people demonstrate different traditional practices such as weaving baskets, preparing local foods and carpentry among others. Also, travelers who wish to take part in any of these activities are given chance. More so, local people display a variety of hand made crafts such as baskets, hats, bags, shoes and dressings for tourists to buy. The money paid by tourists at the Gorilla Guardian Village goes back to local communities helping local people to improve their standards of living. Traditional Kinyarwanda dances and songs are performed by locals to entertain and welcome you into their communities.You will be amazed by how young men and women shake their bodies gently as they jump up and down in their Kinyarwanda dance. Local people some of whom are former poachers are the guides and partakers in this experience.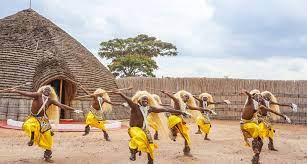 What to expect in the Gorilla Guardians Village?
There is a lot to expect on your visit to the Gorilla Guardian Village. You will see a lot of interesting activities. Some of the things to expect on this experience include:
Visiting local homes
You are guided to visit local homes in the neighborhood. This gives you chance to interact with these traditional people in their traditional setups. Meet local people in their homes, se how they live together and do different home chores. You will be guided into local kitchen to see how traditional Kinyarwanda foods are prepared. The huts are mostly grass thatched and smeared with mud. Take part in peeling matoke, grinding sorghum/millet, and mingling posh, the experience, which make you feel as part of a local home.
Meeting traditional healers
Visit the traditional healers to learn how they use different medicinal herbs in treating different ailments. The traditional healers use different shrubs, , roots leaves, branches and leaves to treat diseases.
Visiting Local Projects
There are many projects run by local people in the Gorilla Guardian Village and the neighboring communities. Here you visit people to see how they tailor different clothing, which they later sell. See how women using sewing machines to make bags, pants and jackets in different styles. Local paintings is another common projects in the Gorilla Guardian Village

Enjoying traditional songs and dances
You will definitely enjoy traditional songs and dances performed at the scene. Different musical instruments such as ingoma, Iningiri, Umuduri, Agakenke, amakondere and inanga among others are played loud to bring out the best musical sounds. Each instrument is unique and it brings out a different sound. The warrior dance in which men wrap their heads and waists with grass belts and bells in their legs while holding spears and shields in their hands is so interesting and enjoyable. The smiling happy faces expressed by these dancers is magical!
Visiting the King's home
Still at the Gorilla Guardian Village, you will be taken to visit the King's home. There you will learn how ancient kings of Rwanda dressed and conducted them selves. You will be dressed in King's attires and allowed to sit in the king's/Queen's attires for some few minutes. Take pictures to take home after the trip. You will also see different symbols of kingship in Rwanda and guided will tell what each symbol signifies.
Cost of Visiting Gorilla Guardians Village
Visiting the Gorilla Guardians Village costs $20 per person. This is paid upon arrival at the site. The fee includes guide fee and cultural conservation. Some pat of this money is given back to loal communities to supoort them improve their standards of living.
Conclusively, Gorilla Guardian Village is the best place to visit on your Rwanda cultural trip. Book with Lets Go Tours Rwanda, to learn and experience Rwanda's traditions, norms and customs.