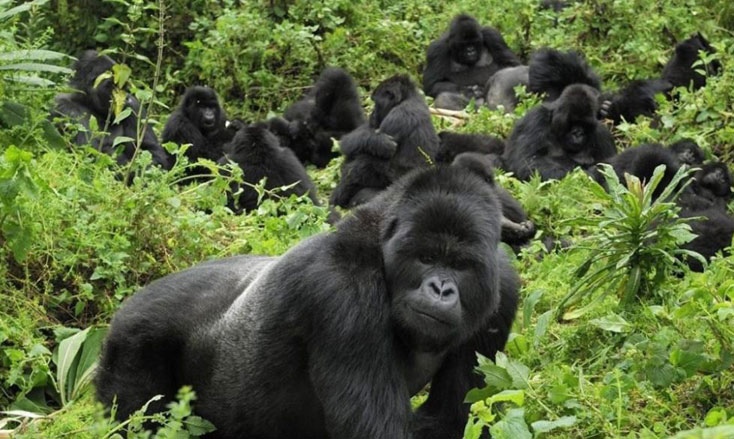 How to prepare for a gorilla trek in Africa? How should you prepare for your gorilla trekking safari in Uganda, Rwanda and D.R. Congo? Preparing for gorilla tracking adventure is time consuming but very simple when you have mustered the process. Adequately preparing for your gorilla tour is key because it guarantees you successful gorilla trekking experience.
Gorilla trekking is a lifechanging experience and it is slightly distinct from the rest of the other activities. Our gorilla safaris introduce nature lovers into the dense jungles of Africa to meet the large mountain gorillas. The key areas of interest for gorilla trekking in Africa include two National Parks in Uganda- Bwindi Impenetrable National Park and Mgahinga Gorilla National Park; Volcanoes National Park in Rwanda and lastly the Virunga National Park in the Congo.
Not more than 1063 mountain gorillas still live on earth with Uganda, Rwanda and Congo being the only places where you can find them. They are unique and share about 97% of their DNA with humans and a trek to encounter is a lifetime chance to prove how close humans are to these massive apes.
Lets Go Tours Rwanda brings you key tips to help you prepare for your gorilla trek
Choose your favorite gorilla trekking location
When planning a gorilla safari, first, you must have an idea of where you plan to go to see mountain gorillas from. Tracking mountain gorillas isn't done anywhere except only in Uganda, Rwanda and D.R. Congo. Only 1063 mountain gorillas are left in the world and they can be viewed while on gorilla trekking in Mgahinga Gorilla National Park and Bwindi Impenetrable National Park (Uganda), Rwanda -travel to Volcanoes National Park and in the D.R. Congo, visit the Virunga National Park.
Each of the 3 gorilla safari destinations in Africa has its own habituated gorilla groups: 21 groups in Uganda, 12 gorilla families in Rwanda and 8 in Congo. Interestingly, other unique activities can as well be incorporated into gorilla trekking adventures.
Obtaining valid gorilla permits should be done early
Setting everything you require on gorilla trekking is a key factor in achieving a successful gorilla safari. Gorilla permits in Uganda or Rwanda must be obtained in advance and avoid last minute things -usually, we advise that you do it 2-6 months before actual visit to see gorillas. On normal occasions, there are visitors who book permits as far as 1, 2 years before they travel to Uganda or Rwanda for actual gorilla trekking.
How much are gorilla trekking permits? Each destination has its set rates for tourists to obtain gorilla permits. In Uganda, foreign non-residents pay USD700, foreign residents USD600 and UGX 250,000. Visiting Rwanda for gorilla trekking means you should have USD1500 for a gorilla permit and USD400 for Congo gorilla safaris.
Be fit enough for actual gorilla trek
Gorilla trekking isn't the usual game drive. Your physical fitness level is essential if you are to enjoy gorilla trekking in Uganda, Rwanda and Congo. It is demanding primate adventure taking you through the forest, steep slopes, muddy ground floor etc. In general, it isn't easy to determine how long you will take to see mountain gorillas but it takes between 2 and 6 hours depending on your speed of trekking or nature of the habitat.
In order to enjoy the most of your gorilla trek, adequate preparation is key- exercise as much as you can. You can jog, walk, do sit-ups, hike the hilly areas back in your home country or in case you get to Uganda or Rwanda early, make the best use of hilly Kampala or Kigali city. Gorillas live high in montane areas with elevation range of about 2500 to 3500m.
Know the guidelines for gorilla trekking
Gorilla trekking guidelines to expect to observe while in Uganda, Rwanda and Congo include:
1. To visit a gorilla family in Uganda, Rwanda/Congo, you should be 15 years.
2. Washing hands/hand sanitizing is essential before you go visit gorillas.
3. During briefing, only one group will be allocated to every group of 8 visitors.
4. Keeping low your voices during actual gorilla trek is mandatory but be free to ask questions.
5. All visitors must observe 10m distance from gorillas.
6. Don't liter the park while tracking gorillas.
7. Do not drink, smoke or eat while with gorillas.
8. Touching gorillas isn't acceptable even if they rub themselves on you.
9. You must keep within your gorilla trekkers group and park guide leads.
10. No use of flashlight camera or if your camera has flashlight, turn it off.
Deal with a reliable gorilla safari company
Take keen attention on whom you will deal with to arrange your gorilla trekking safari in Uganda or Rwanda. Consider dealing with a reputable company/agency that is fully registered meaning it is a recognized by authorities. Before you consider planning a gorilla trip with any company, look at its membership to local tourism associations, check through the reviews, visit the site and read through the About Us page etc.
What/how to pack
Packing right for gorilla trekking is key for you to have the most enjoyable trek to see gorillas. The packing list should consist of environmentally friendly clothing. The key items to consider a must in your packing list: waterproof hiking boots, hand sanitizer, long sleeved shirt, rain jacket, gardening gloves, sunglasses, snacks, light wool sweater, sunscreen, first aid kit, bottled water, pair of socks, camera free of flashlight, safari hat, walking stick, insect repellent, toiletries and more.
Best time to travel
You should have idea on when best to visit Uganda or Rwanda for gorilla trekking. The dry season is often considered the best and it occurs twice a year -longer one runs from June to September and shorter dry season from December to February. Trekking gorillas during the dry season is a little simpler because forest trails are relatively drier. Some visitors also prefer traveling during the wet or rainy season especially budget visitors and this is normally from March to May and October to November.