Tailored 2 Days Bwindi Gorilla Tour starting and ending in Kigali for visitors looking for a short day gorilla trip to Bwindi national park at very good prices of gorilla permits. If a visitor prefer to visit gorillas in just one day from Kigali, we can arrange the tour setting off very early in the morning driving to the Uganda – Rwanda border crossing into Uganda to catch briefing the the park head office. Lets Go Tours Rwanda  is your trusted guide on this 2 Days Uganda gorilla trek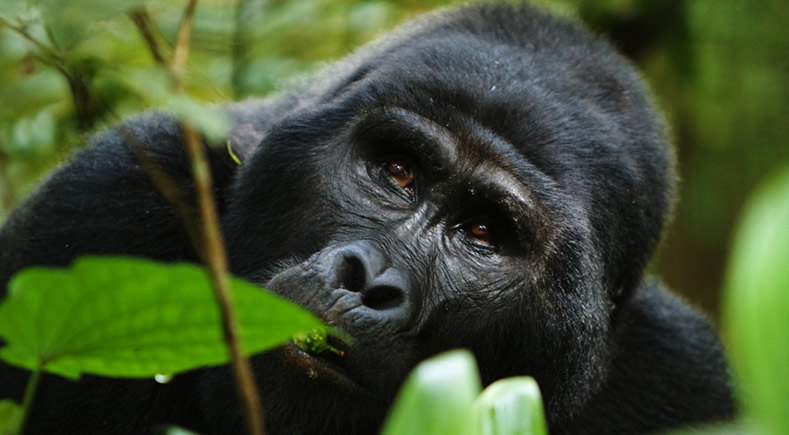 Itinerary
Day 1: Transfer to Bwindi Forest National Park
After your morning breakfast, you will set off for Bwindi Forest NP; driving via the Katuna – Gatuna border, take in the beautiful scenery views of the Kigezi Highlands as you head to Lake Bunyonyi – a birders' paradise. Here you will engage in an amazing canoe ride before proceeding with your drive to Bwindi Forest National park. Dinner and overnight at Bwindi Jungle (Budget / Midrange,), Chameleon Hill / Mahogany springs (luxury).
Day 2: Mountain Gorilla Trek and Departure
Rise early, enjoy your breakfast and assemble at the park offices for morning briefing on the trekking guidelines before embarking on this wonderful expedition through the thick dense canopy forest of Bwindi. Usually, it takes about 30 minutes to several hours to encounter the mountain gorillas; but once got, enjoy an hour with them before retrieving to the starting point (for Certificates of Participation) before retrieving your lodge. Later, set off for your return trip to Kigali for departure flight. (Though with an early arrival, you may take onto an optional Kigali City Tour to Gisozi Genocide Memorial Site, local craft shops and market centers).
END OF TOUR