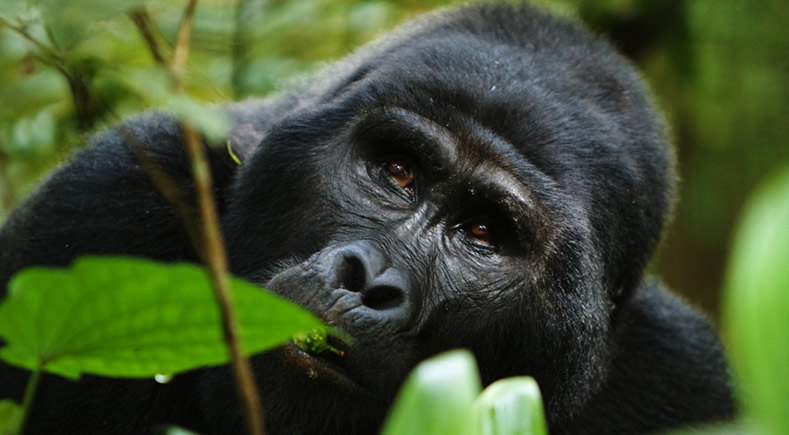 Trip Overview
Enjoy this tailored 2 Days Bwindi Gorilla Tour starting and ending in Kigali arranged and guided by Lets Go Tours Rwanda. The 2 Days gorilla trip is best for visitors looking for a short day gorilla trip to Bwindi National Park at very good prices of gorilla permits. Fly into Kigali International Airport Rwanda and cross over to Uganda to meet the endangered gorillas in the impenetrable forest of Bwindi. The drive time from Kigali to Bwindi Forest is roughly 5 hours via either Cyanika border in Kisoro district or Katuna/Gatuna border in Kabale district. Crossing through Cyanika border is the direct access to Rushaga sector of Bwindi Impenetrable Forest National Park which shelters the highest number of habituated gorilla families. Bwindi Forest is home to half of the world;s gorilla population which make it a primate gorilla safaris destination in the world.The 17 habituated gorilla families in Bwindi forest include Habinyanja, Rushegura, Kyaguliro, Mubare, Oruzogo, Nshongi, Bweza, Busingye, Katwa, Nkuringo, Christmas, Bitukura, Mishaya and Kahungye gorilla family among others. Uganda Wildlife Authority issues out 136 gorilla permits each day to travelers on the first come first serve basis. The park is bisected into four gorilla regions which include Ruhija in the East, Buhoma in the North, Rushaga and Nkuringo in the southern region of the park. More so, Bwindi Forest offers travelers chance to spend 4 hours with the endangered gorillas in the experimental gorilla habituation experience.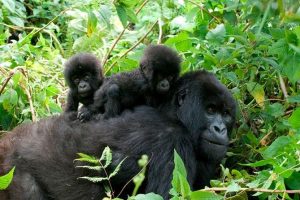 Bikyingi and Bushaho gorilla families are undergoing habitation experience and will be soon open for trekking. Lets Go Tours Rwanda  is your trusted guide on this 2 Days Uganda gorilla trek. Travelers to Bwindi Forest also visit batwa cultural villages to learn about the traditions, customs and norms of beliefs of these indigenous forest people. The park is also an Important Birding Area sheltering over 350 bird species some of which are not found anywhere else in the world. Nature/Forest walking is another interesting activity done in Bwindi impenetrable Forest National Park. Lets Go Tours Rwanda is your best guide on this 2 Days Bwindi gorilla tour
Trip Summary
Day 1: Transfer to Bwindi Forest National Park
Day 2: Mountain Gorilla Trek and Departure
Detailed Itinerary
Day 1: Transfer to Bwindi Forest National Park
After your morning breakfast, you will set off for Bwindi Forest NP; driving via the Katuna – Gatuna border, take in the beautiful scenery views of the Kigezi Highlands as you head to Lake Bunyonyi – a birders' paradise. Here you will engage in an amazing canoe ride before proceeding with your drive to Bwindi Forest National park. Dinner and overnight at Bwindi Jungle (Budget / Midrange,), Chameleon Hill / Mahogany springs (luxury).
Day 2: Mountain Gorilla Trek and Departure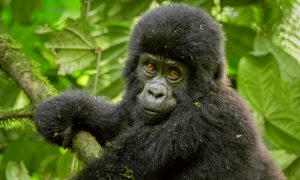 Rise early, enjoy your breakfast and assemble at the park offices for morning briefing on the trekking guidelines before embarking on this wonderful expedition through the thick dense canopy forest of Bwindi. Usually, it takes about 30 minutes to several hours to encounter the mountain gorillas; but once got, enjoy an hour with them before retrieving to the starting point (for Certificates of Participation) before retrieving your lodge. Later, set off for your return trip to Kigali for departure flight. (Though with an early arrival, you may take onto an optional Kigali City Tour to Gisozi Genocide Memorial Site, local craft shops and market centers).
End of the tour
What is included
– Our Quotes offered in USD
– Full Board Accommodation
– Bottled Mineral water
– All meals on safari
– Gorilla Permits
– 4×4 safari vehicle with driver/guide
– Park Entrance fees
What is excluded
– Visas
– International / domestic Flights
– Alcoholic beverages
– Tipping
– Laundry