Rwanda's Volcanoes National Park is home to half of the total population of the Virunga mountain gorillas. It's habituated with 11 gorilla family groups, 10 available for tourist purposes and 1 specifically set aside for research and study purposes.The Rwanda Development Board (RDB) has played a big role in promoting mountain gorilla trekking and tourism throughout the country. Through the various regulations and programs established by the RDB; several visitors are able to enjoy the marvelous mountain gorillas. Lets Go Tours Rwanda offers yo guide to habituated gorilla families in Rwanda.
In every single day throughout the year, 80 tourists get a chance to view the intriguing mountain gorillas in their natural vicinity with 8 individuals allocated to every single gorilla family group.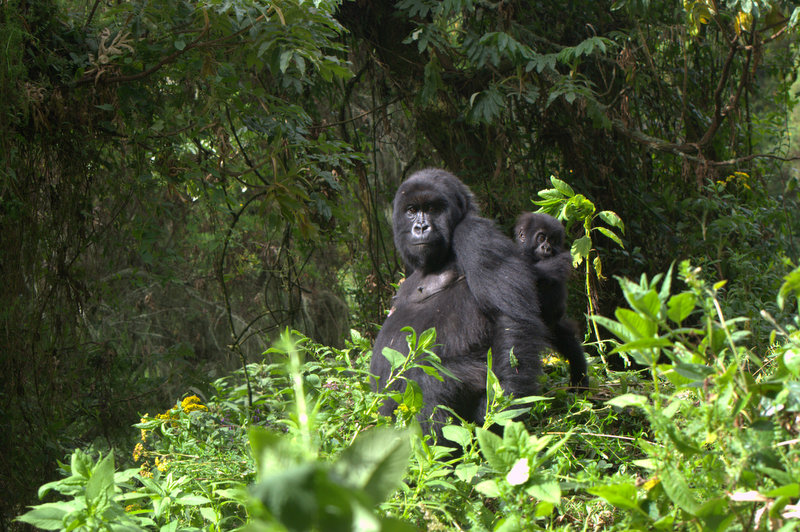 There are 11 habituated gorilla families in Rwanda with 10 available for tourism purposes while 1 is strictly set aside for research and study purposes. Among Rwanda's frequently visited families are; Susa, Sabyinyo, Amahoro, Umubano, Kwitonda, and Hirwa. These are settled on the varying slopes of volcanoes National Park determining the nature of the hike; those residing within very high and steep slopes suitable for the tough hike, those within the moderate slopes provide the medium hikes while those settled within the lower/ gentle slopes of the volcanoes provide the Easy hike. It's at this point that visitors are able to decide on which hike to take considering the family they are most interested while bearing in mind about their physical and health status.
Susa Family
Is one of Rwanda's oldest gorilla family groups; being the same study group used by the early American Scientific Researcher Dian Fossey in the 1980's. It derives its name from the Susa river that flows through its homestead.gorilla safari Rwanda
It's actually found on the highest and steep slopes of volcanoes NP and even sometimes tends to move deep within the forest; this makes it quite hard to trek hence considered the toughest gorilla family group to trek while visiting Rwanda. It's best recommended for those with very good physical and health status and ready to take up a good hike up the high steep slopes of a volcano.
Karisimbi Group B Family
This is sometimes referred to as the Susa B group; found on the higher slopes of Mt Karisimbi and therefore a very difficult group for mountain gorilla trackers. It's a family of 16 individuals with 2 adult silverbacks.
Titus Family
This is one of the originals of Volcanoes National park; found between the slopes of Mt Karisimbi and Visoke – the exact locations of the The Karisimbi Research Center,Under the leadership of Titus.
Sabyinyo Family
This is an interesting gorilla family residing within the gentle slopes of Mt Sabyinyo from where it also derives its name. This is the easiest gorilla family to trek while in for mountain gorilla trek at Volcanoes National Park. Something unique about this particular group is the fact that it has 2 adult silverbacks that harmoniously coexist with each other without any commotions.
gorilla safari Rwanda
It's lead by a dominant silver back Guhonda with his assistant Ryango.
Amahoro Family
The most peaceful gorilla family group of all times,; found on the slopes of Mt Visoke . It's led by Ubumwe a dominant silverback. Trekking for this particular family rewards trackers with a medium hike. The Amahoro family was named from it's peaceful character "Amahoro – a Kinyarwanda word for peace.
It's a family of 17 individuals with a dominant silverback, 2 black backs and 5 juveniles.
Agashya Family
The former Group 13, is considered the largest gorilla Family group residing within the slopes of Volcanoes National Park. Its home stead is around the Mgahinga and Sabyinyo Volcanoes.
Initially, it consisted of 13 members under Nyakairima's leadership but due to Agashya's ambitious struggles, he(Nyakairima was overthrown) and Agashya took over this group's leadership and has seen it expand to such great numbers to 25 family individuals. This rebellious leader is also very protective of his members that whenever he senses danger, he orders his family to mover up very high the mountains for their own safety. Therefore to trek for this particular family is quite unpredictable as at times may reward visitors with an Easy Hike and sometimes with a Tough one.
Umubano Family
This came to light after its leader Charles tor away from the Amahoro family under Ubumwe. It's a group of 7 family members with 1 dominant silverback Charles.
gorilla safari Rwanda
Kwitonda Family: Kwitonda,- the humble one! Is the most humble gorilla group residing within the slopes of volcanoes national park. Settled at the lower slopes of Mt Muhabura, sometimes an =Easy group to track and other times a very tough one as it tends to move up to the higher slopes of Mt Muhabura. It's a family of 18 individuals with 2 silverbacks, 1 black back and several juveniles.
Hirwa Family
A newly formed group, came to light in 2006 after some family members of Sabyinyo and Agashya (Group 13), came together to form one new group of 16 family individuals with 1 dominant silverback.
Ugende Family
Just like its name Ugende – always on the move! It's always moving from one place to another and usually seen around the slopes of Mt Karisimbi though it tends to move deep to the higher slopes of Karisimbi. It's due to this, the group rewards its trackers with a hard/ tough hike/ trekking experience!
This is a family of 11 individuals with 2 adult silverbacks.
Bwenge Family
Due to its wisdom, the group was named Bwenge a local word for wisdom. It's the renowned group that featured in the "Gorillas of the Mist". It's a very lovely group settled at the slopes of Mt Karisoke under the leadership of Bwenge who by the way is a very dominant silverback.
The group consists of 11 family members who are all very submissive to their superior Bwenge.