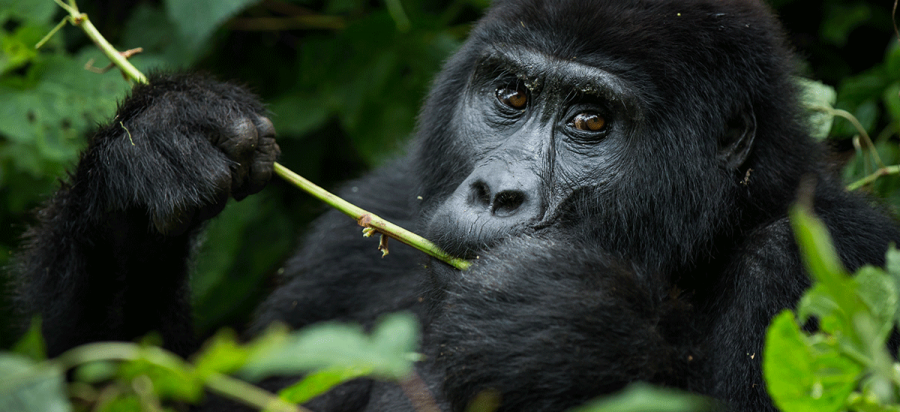 Mountain gorillas are the key highlights of Rwanda safaris. Only 3 countries (Rwanda, Uganda and Congo) protect mountain gorillas (gorilla beringei beringei) which currently remain not more than 1063 individuals on earth. Over 604 of these large apes reside in the Virunga Conservation Area (VCA) and Rwanda's Volcanoes National Park lies suitably within this region.
Here are the reasons why you should visit Rwanda to see gorillas with Lets Go Tours Rwanda
Accessibility
Compared to all the mountain gorilla trekking destinations, Volcanoes National Park Rwanda is the most accessible park from the city center. The park is 109kms/2-3 hours' drive away from Kigali city – this is the shortest distance tourists can cover and they can enjoy gorilla trekking. This is not a case with gorilla safaris in Uganda where you set off from Kampala/Entebbe to Bwindi Impenetrable National Park or Mgahinga National Park, about 8-10 hours' drive depending on the route.
Close proximity of Volcanoes National Park (Parc Nationale des Volcans) Rwanda to Kigali capital makes it possible to organize a 1 day or 2-day gorilla tour. You can fly from your home country and land at Kigali International Airport (KGL) and you can connect in a 4×4 Rwanda safari vehicle.
Volcanoes National Park -Rwanda is found in Northwestern side of the country. It is strategically set in Virunga Area and it can even be reached starting from Mgahinga or Bwindi National Park via Katuna or Chanika border crossing.
Safety
Rwanda is one of the safest destinations to consider for gorilla tours in Africa. There has been a remarkable change in Rwanda not only in the economy but also security wise. Peace and security have prevailed in Rwanda since the end of the 1994 genocide era. All tourism destinations are safe and secure for visiting and tourists can enjoy their activities, return safely to their home countries.
Habituated gorilla families
As of June 2022, over 12 gorilla families have been habituated and others are still undergoing through habituation in Rwanda's Volcanoes National Park. This makes Rwanda – particularly Volcanoes NP an ideal gorilla trekking destination. The gorilla groups that are open to trekking in Rwanda: Susa A group – this gets its name from River Susa and it was researched by Dian Fossey. Susa B (Karisimbi) mountain gorilla group – takes its name after Karisimbi Volcanoes (4507m)- the tallest of the 8 Virunga Volcanoes. Sabyinyo, Amahoro group, Hirwa gorilla family, Umubano gorilla family, Ugenda, Agashya, Titus, Bwenge gorilla group.
Each of the 12 gorilla groups in Rwanda Volcanoes National Park is visited by 8 visitors per day. It translates to about 96 gorilla permits and every permit costs USD1500 per person for a single gorilla trek. A portion of gorilla permit fees is invested in mountain gorilla conservation and protection.
Support conservation of gorillas
Securing the future of mountain gorillas takes a collective effort. By you undertaking or visiting Rwanda for gorilla safari, you greatly support mountain gorilla and other wildlife conservation. Different conservation activities are available all aimed at ensuring survival of these distinct species. Currently, mountain gorillas are listed as "endangered" species as per IUCN red list.
Variety of gorilla safari accommodation
Rwanda is without doubt a complete destination and visitors traveling to see gorillas have plenty of accommodation to retire for a night. Myriad of budget, midrange and luxury lodges are available in and around Volcanoes National Park and also in key cities/towns like Kigali. The lodges to book: Gorilla Solution Lodge, Sabyinyo Silverback Lodge, Mountain Gorillas Nest Lodge, Garr Hotel, La Palme Hotel, Kinigi Guesthouse;
Other accommodation: Five Volcanoes Boutique Hotel, Da Vinci Gorilla Lodge, Hotel Muhabura, Bisate Lodge, Le Bambou Gorilla Lodge, etc.
Plenty of things to do besides gorilla trekking
Rwanda is compact in size making it the easier to explore its attractions. Gorilla tours can be combined with visit to other destinations including Nyungwe Forest National Park. This is the leading chimpanzee tracking spot in Rwanda and it is where you can find 13 primate species residing in the same habitat. These include 500 chimpanzees, 400 colobus monkeys, red-tailed monkeys, vervet monkeys, olive baboons, blue monkeys, silver monkeys, pottos,
Akagera National Park – Big 5 game safari (bush elephants, buffaloes, lions, leopards, rhinos); 500 bird species. At Akagera National Park, activities to do: game drive, boat or launch cruise, helicopter tours, cultural visits, rhino walking, birding, nature walk, sport fishing tours.
Gishwati-Mukura National Park -newly founded park and primate paradise of its own. It is perfect spot for chimpanzee tracking/primate tracking, birding, nature walks, community visits, etc. There is also possibility of enjoying golden monkey tracking in Volcanoes National Park.
A successful gorilla trekking tour in Rwanda is achievable and one key thing to do is ensuring that you have packed well. In your packing list, don't leave out waterproof hiking boots, gardening gloves, camera free of flashlight, poncho or waterproof rain jacket, daypack, safari hat, high energy giving snacks, sweater, sunglasses, sunscreen, pair binoculars, bottled waters.
When is the best time to visit Rwanda for gorillas?
Mountain gorillas in Rwanda can be visited at any month of the year or day of the year. The dry season is the best and ideal to see gorillas – June, July, August, September; December, January, February. Less rains are experienced during these months and also, they are considered peak months of the year. The forest trails are relatively drier during the dry season making them passable to see gorillas.
Heavy rains start from March, April, May and October, November. These are low months or off season and less crowds are recorded during these months of the year unlike the dry season/peak period.
Cost of gorilla permit- Rwanda
Gorilla trekking is the key activity or experience Rwanda does offer the world. Rwanda Development Board (RDB) issues gorilla permit documents at USD 1500 and they can be obtained via a trusted tour operator on ground. Permits should be obtained early at least 2-4 months before flying into Rwanda for gorilla tours.