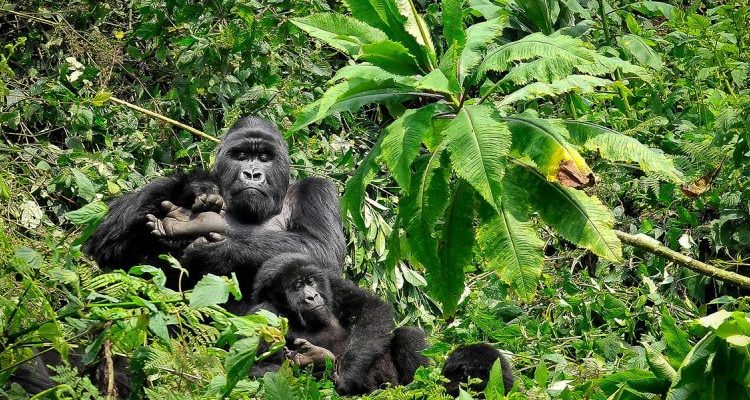 In almost all the African safaris, gorilla trekking doesn't miss out but what still leaves most tourists asking themselves is; is gorilla trekking worth the money? Yes! Gorilla trekking is completely worth every penny, effort and visitors' time. Repeat travelers to Uganda, Rwanda or Congo can affirm it that this is truly a lifechanging experience that comes once in a lifetime.
Trekking mountain gorillas is a dream come true and interestingly, we take you through amazing gorilla tours in Uganda, Rwanda and Congo. Visiting mountain gorillas is only possible in their natural habitat and 4 National Parks are all open for tourists to engage in this remarkable primate adventure. The 4 parks: Volcanoes National Park (Rwanda), Bwindi Impenetrable National Park and Mgahinga Gorilla National Park (Uganda), lastly, Virunga National Park in the Congo.
Here are the key factors to understand if gorilla trekking is worth the money with Lets Go Tours Rwanda
Facilitating conservation efforts
Mountain gorilla or wildlife conservation and protection isn't cheap. Ensuring that these endangered species thrive today and tomorrow comes at a cost. A number of factors come to play including research, monitoring, etc -these all require facilitation. Gorilla permits are issued at different costs depending on the gorilla destination. In Uganda for instance, gorilla permits are open to all travelers of above 15 years and they can be booked at USD700 (foreign non-residents), foreign residents USD600 and all Ugandans or East African citizens at Uganda shillings 250,000 per person.
It is part of what tourists pay to secure gorilla permits/safaris that is used to aid numerous conservation practices in the park and in the local tourism communities. This makes gorilla trekking safaris the main funder of gorilla conservation in Uganda, Rwanda and Congo. Uganda and Rwanda share part of the earnings from gorilla/tourism with local communities. Uganda tourism revenue sharing still stands at 20% and in Rwanda at 10%.
The tourism revenue sharing is aimed at limiting illegal practices in the national parks and enhance the local communities' living conditions. This is through provision of alternative park resources, compensating farmers for the losses they incurred as a result of wildlife crop raiding.
One hour with gorillas – is it worth spending?
Yes, strictly one hour is what tourists can spend on a face-to-face encounter with family of mountain gorillas. This is upon finding a habituated gorilla group that the park official assigned to you. The one hour is the time you get a magical moment with the massive mountain gorillas. These are rare species and you can't find them anywhere. Have you asked why mountain gorillas are not at the zoo?
Mountain gorillas can only survive in the wild where they can roam freely. Trekking to see them in their natural environment to most travelers is a lifetime experience. They survive in the thick forests of Uganda in Bwindi Impenetrable National Park, Mgahinga NP. In Rwanda, Volcanoes National Park and while in the D.R. Congo, the Virunga National Park.
During one hour of close encounter, you will agree that these are truly our closest relatives. Mountain gorillas carry about 98% DNA that is similar to that of humans. In case of visitors who may prefer spending more time with these large species, there is currently gorilla habituation experience. This is an extra-ordinary adventure which grants tourists all the 4 hours to spend face-to-face with semi-habituated gorilla family.
Abundant faunal and floral species
Mountain gorillas live in countries rich in unique floral and faunal species. These means you have more than mountain gorillas to see in Uganda, Rwanda and Congo on gorilla safaris. They range from l'hoest monkeys, grey cheeked mangabeys, chimpanzees, baboons, red colobus monkeys, red tailed monkeys, birds. There is also a chance to combine savanna game safaris with gorilla trekking adventures.
Top wildlife safari destinations to consider: Murchison Falls National Park, Queen Elizabeth National Park in Uganda, Akagera NP in Rwanda, Masai Mara National Reserve, Tsavo National Parks, Amboseli National Park in Kenya. In Tanzania, explore the Northern tourism circuit to see wildebeest migration in Serengeti National Park as they cross to Maasai Mara National Reserve; Tarangire National Park, Lake Manyara National Park for tree climbing lions and in Uganda, get them at Ishasha sector Queen Elizabeth National Park on a day game drive or en-route game drive to Bwindi Impenetrable NP, etc.
When is the ideal time to visit for gorilla trekking in Uganda/Rwanda?
Normal gorilla trekking experience is open all year-round. Though the dry season: Long & Short are the most preferred. These two phases of dry season are characterized by favorable weather conditions-low or no rains, dry floor, clear vegetation, etc. These factors make it easier navigating through the park on a search for family of mountain gorillas.
Each year, the 2 dry seasons fall in June, July, August -for long dry spell, short dry months: December, January and February. The 2 wetter seasons: first phase runs from March, April to May (long) and October, November (short).
Regardless of the season, gorilla trekking requires you to be adequately prepared. This includes how you pack and key items to consider include first aid kit, camera completely free of flashlight, long sleeved shirt, simple sweater, long trousers;
Rain jacket (waterproof and quick to dry), sturdy and waterproof hiking boots, insect repellent, snacks, bottled water. When choosing what to wear, environmentally blending clothing is key.
How hard is gorilla trekking?
Gorilla trekking isn't normal nature walk in the savanna protected areas. Here tourists get involved in thrilling adventures, wind through the thick vegetation, steep slopes perhaps slippery or dry depending on the weather in the course of the day, etc. It is generally a demanding primate experience requiring some level of physical wellness.
Not to have discomforting trek because of heavy luggage, there are porters at park offices to be hired. They assist in carrying your daypack meaning, you have ample time to concentrate in your trek. Though the trek can be tough, meeting mountain gorillas in the wild after 2-6 hours of navigating through the forest is mind-blowing.