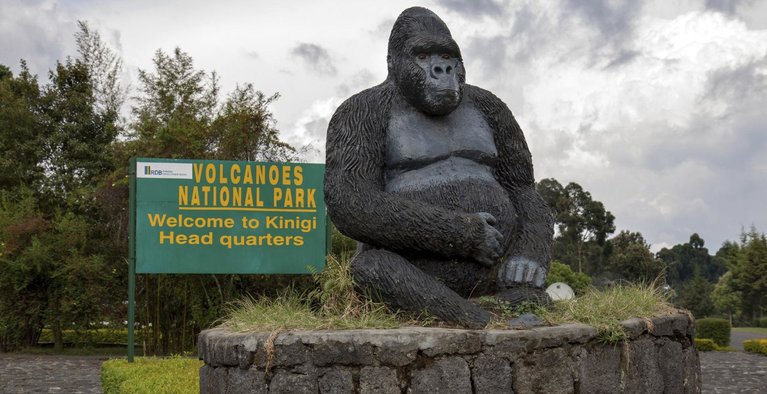 Volcanoes National Park is Rwanda's popular park located in the Northwestern Province of Rwanda. Spread over 160 square kilometers of Land, Volcanoes National Park is home to the endangered mountain gorillas. The other wild animals found in Volcanoes National Park include golden monkeys, African buffalos, Forest Elephants, Black fronted duiker and bushbucks among others, Volcanoes National Park is part of the great Virunga Conservation Area which also consist of Mgahinga Gorilla National Park in Uganda and Virunga National Park in the Democratic Republic of Congo. Regarding vegetation cover in the park, Volcanoes is mainly a bamboo forest. The other vegetation in Volcanoes Park include swamps, rain forests, ferns, thickets and marshes which harbor a variety of birds and wild animals. Volcanoes National park is also home to five distinct volcanoes namely, Mt Karisimbi, Mt Bisoke, Mt Sabyinyo, Mt Gahinga & Mount Muhabura. Lets Go Tours Rwanda gives you the basic guide to Volcanoes National Park, attractions, activities, accommodation, how to get there, best time to visit, what to pack and all about this amazing park.

Top things to see and do in Volcanoes National park
As said already, Volcanoes National Park is richly blessed in diversity. The park is home to numerous birds, wild animals, waterfalls and vegetation, which together offers amazing experiences. Travelers to Volcanoes National Park have a variety of interestingly things to see and do, these include:
Mountain Gorilla Trekking: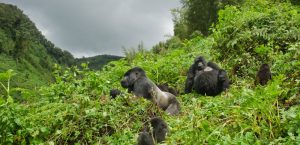 Go gorilla trekking to meet the endangered mountain gorillas in their natural habitat. As said already, Volcanoes National Park is home to the highest population of mountain gorillas in the Virunga Conservation Area. Gorilla trekking is the most done travel experience in Volcanoes National Park which reward travelers with the best wildlife experience. Rwanda Development Board together with African Parks manages gorilla tours in Rwanda. To ease gorilla trekking sessions, RDB has habituated 10 gorilla families in Volcanoes National Park. Each gorilla family is visited by a group of eight people hence 80 gorilla permits available everyday. Each permit costs $1500 some of which is given back to the local communities while the rest of the money is used to support gorilla conservation and tourism activities in Volcanoes National Park. Gorilla families in Rwanda include Karisimbi, Hirwa, Umubano, Amahoro, Sabyinyo, Susa A, Kwitonda, Agashya, Ugenda and Bwenge gorilla families. Lets go tours Rwanda helps you book and reserve Rwanda gorilla permits saving you the hustles of private bookings. Gorilla trekking tours in Volcanoes National Park range from a 1-Day gorilla trek to as many as 20 days depending on the traveler's available time and interests.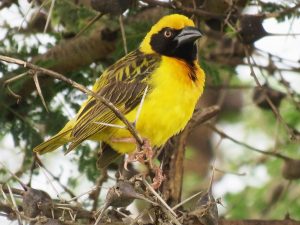 Bird watching
Volcanoes National Park shelters over 180 bird species, which make it one of the best birding spot in Rwanda. June to August is the best time for bird wathci9ng in Volcanoes National Park while November to April is the good time to see migratory birds in Volcanoes Park. Some of the notable birds in Volcanoes National Park include Bateleur, Red backed Shrike, Baglafecht Weaver, Cinnamon Chested bee eater, Blue Spotted wood dove, Strange Weaver, Ruwenzori Apalis, Brown Woodland Warbler, Ruwenzori Apalis, African Long eared Owl, Brown Woodland warbler, Dusky Turtle Dove and Dusky Crimsonwing among others. Binoculars are highly recommended for the best birding experience in Volcanoes National Park
Volcano Climbing
Take part in hiking any of the extinct volcanoes in Volcanoes National park for a lifetime adventure. Mount Karisimbi (the highest volcano in the Virunga Conservation Area) and Mount Bisoke are the most hiked mountains in Volcanoes National Park Rwanda. A 2 Days Mt Karisimbi hike and a 1-Day mount Bisoke hiking tour offers you great mountaineering experience. The summit of mount Karisimbi is covered by snow especially in the dry season, which make it more interesting, while Mount Bisoke shelters a large crater lake at its summit. The lower slopes of both volcanoes are covered by forests which shelter some endangered mountain gorillas and other primates.
Dian Fossey Grave yard Hike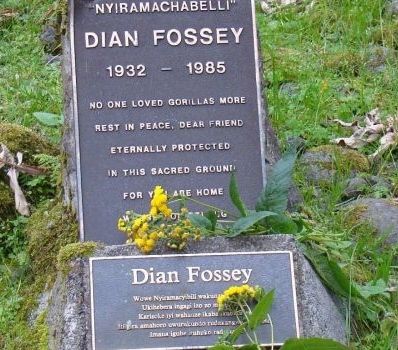 Hiking to the gravesite of the fallen Dian Fossey, the gorilla lover who was killed in her campaign to save the endangered primates. Whereas poachers killed Dian Fossey, her legacy has continued up to present. It's through her campaign that gorilla tourism in Volcanoes National park and the entire Virunga Conservation Area has thrived. Visiting to the graveyard is a sign of respecting and commemorating her good works. On your trek to the gravesite, you can meet up several other wild animals and birds which live in this jungle forest. You will require a permit, which costs $75.
Bulera & Ruhondo Twin Lakes
Visit the beautiful twin lake of Bulera and Buhondo located in the heart of Volcanoes National Park. The lakes have bleu waters due to the shadows of the iconic Virunga volcanoes that surround these lakes. A boat cruise on the twin lakes offers you scenic views of Rwanda's rolling hills, local farms and the Virunga Mountains. You will cruise together with local people headed to their gardens
Golden monkey trekking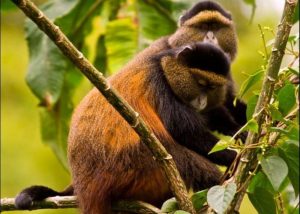 Golden monkey trekking is another interesting adventure you should not miss out on Rwanda safari to Volcanoes National Park. The Park is home to two-habituated golden monkey communities open for travelers. Golden monkeys are very active and playful creatures worth visiting. A golden monkey trekking permit in Rwanda costs $100, which is fairly affordable for all travelers. The striking golden fur coats at the back of golden monkeys distinguish them from other monkey species in Volcanoes National Park. Each golden monkey community comprise of between 80-100 members, which give travelers great view. Interestingly, treks to see golden monkeys in Volcanoes National park are quite short compared to gorilla treks, which saves your time and energy.
Musanze Caves
Enjoy a walk through the 2 kilometers Musanze caves for a magical and rare experience. The walls of the caves shelter thousands of caves which you will see hanging. The caves are dark inside which require travelers to carry head lumps. Also, remember to put on closed shoes of boots to easily walk through the muddy grounds of Musanze caves.
Accommodation in Volcanoes National Park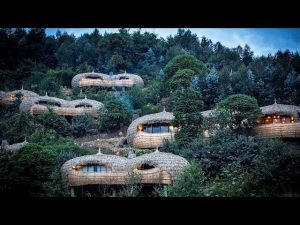 If you ant to spend an overnight in Volcanoes National Park, the park has a variety of budget, midrange and luxury lodges, camps and hotels to offer you excellent food and sleeping services. Lets Go Tours Rwanda will book you the suitable accommodation for you. Some of the top lodges in Volcanoes National park include Mountain Gorilla View Lodge, Bisate Lodge, Sabyinyo Silverback Gorilla Lodge, Five Volcanoes Boutique Hotel, Best View Hotel, Davinci Gorilla Lodge, Gorilla Solution Lodge, Virunga Lodge, Le Bambou Gorilla Lodge, Villa Gorilla Lodge, Kinigi Guest House, Singita Kwitonda Lodge and Tiloreza Lodge. All these lodges have professional staff that ensures quality and timely service delivery.
Best Time to Visit Volcanoes Park
Volcanoes National Park can be visited all year round. However, dry season between June to September and December to February is the best time for visiting Volcanoes Park. Less or no rains hence characterize the season making it the best time to do most activities
How to get to Volcanoes National Park
Volcanoes National Park can be easily reached by Road transport, Fly into Kigali Rwanda and f drive north westwards to Volcanoes Park. The drive time is approximately 3 hours from Kigali.
What to pack to Volcanoes Park
Some of the essential things to pack foe your Rwanda safari to Volcanoes National Park include light waterproof closed shoes, hand gloves, sun glasses, hat, rain jacket, scarf, warm sweaters, insect repellants, first aid kit and some energy giving snacks.
In general, Volcanoes National Park is your best place to visit in Rwanda. Contact Lets Go Tours Rwanda, your ultimate guide to explore and enjoy attractions/activities in Volcanoes National park.