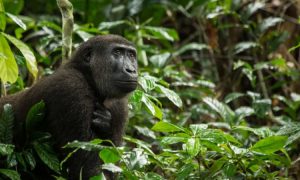 Trip Overview
The 5 Days Congo double gorilla trekking safari is an exceptional package offering you double gorilla trekking experience. Enjoy 2 gorilla treks to see two different gorilla species in their natural habitats with Lets Go Tours Rwanda. Go mountain gorilla trekking in Virunga National park and meet up with one of the 8 habituated gorilla families in this natural forest. The park covers Congo's part of the Virunga Conservation Area bordered by Volcanoes Park in Rwanda and Mghahinga Gorilla National Park in Uganda. The habituated gorilla groups in Virunga National Park include kabirizi, Mapuwa, Humba, Lulengo, Rugendo, Munyaga and Nyakamwe. you will be required to have a permit which costs $450. You will visit kahuzi Biega National Park to trek the lowland gorillas which is the largest gorilla specie in the world. Kahuzi Biega is named after two dormant volcanoes on which the park spreads. Th permit to see lowland gorillas also cost $450. The double gorilla trek offers you the best gorilla trekking comparisons. Th Democratic Republic of Congo is the only place where travelers have a chance to see two different gorilla families. The other interesting activities to do in Congo include hiking Nyiragongo Volcano, bird watching, community tours, nature walks, and chimpanzee tracking among others. We shall start and end in Kigali Rwanda
Trip summary
Day 1: Pick up & transfer to Goma
Day 2: Mountain gorilla trekking
Day 3: Transfer to Kahuzi Biega National Park
Day 4: Lowland gorilla trekking
Day 5: Departure
Detailed Itinerary
Day 1: Pick up & transfer to Goma
The driver guide from Lest Go Tours Rwanda will pick you up from Kigali Rwanda for a transfer to Goma. Enjoy a drive through Kigali city headed to Goma town. the scenic views 0f Rwanda's rolling hills offer you the pre gorilla trekking experience. On reaching Game, you will proceed your respective lodge in Virunga National Park for an overnight stay.
Day 2: Mountain gorilla trekking
Vey early in the morning, you will have breakfast at your lodge and be ready wit your packed lunch. The ranger guide from the park will pick you and transfer you to the park headquarters for registration and briefing on the rules and regulations of gorilla trekking. At 8:00am, you will start up a hike into the jungle searching for the endangered gorillas. You will be allowed to spend an hour in the company of the gorillas to enjoy their humanly activities. Keep a distance of 7 meters, take as many pictures as possible and enjoy this one of a kind experience. The trek takes between 2-6 hours depending on your physical fitness and location of the endangered gorillas. You may encounter other wild animals and birds which live in Virunga National Park on your trek to see the gorillas.
Day 3: Transfer to Kahuzi Biega National Park
Have a relaxed morning breakfast at your lodge, check out and embark on a drive to Kahuzi Biega National park located home to the endangered eastern lowland gorillas. Spend the rest of today at your lodge as you prepare for tomorrows second trek.
Day 4: Lowland gorilla trekking
After having a heavy breakfast, the ranger guide will pick you up from your lodge and transfer to the headquarters of Kahuzi Biega National park where registration and pre gorilla trekking briefing takes place. You will be divide into groups of eight and allocated a gorilla family to visit. At 6:00am, begin the hike into the jungle searching for the endangered lowland gorillas. The trek is strenuous ranging from 2-8 hours but the magical feeling of meeting these gentle giants is worth the energy. You will spend an hour with gorillas, take pictures and enjoy this lifetime experience. Follow the guidelines of your ranger guide to avoid any problems while in the jungle.
Day 5: Departure
This is the last day of our 5 Days Congo double gorilla trekking adventure. Have breakfast, check out and drive headed to Kigali Rwanda for your departure flight.
End of the trip
Tour Inclusions
2 gorilla permits
Fulltime English speaking guide
Accommodation and meals
Bottled drinking water
Miscellaneous
Ground Transport
Ranger/guide fee
Government taxes
All activities included in the itinerary
Tour Exclusions
Porters fee
Extra activities not included in the itinerary
Tips
Alcoholic beverages