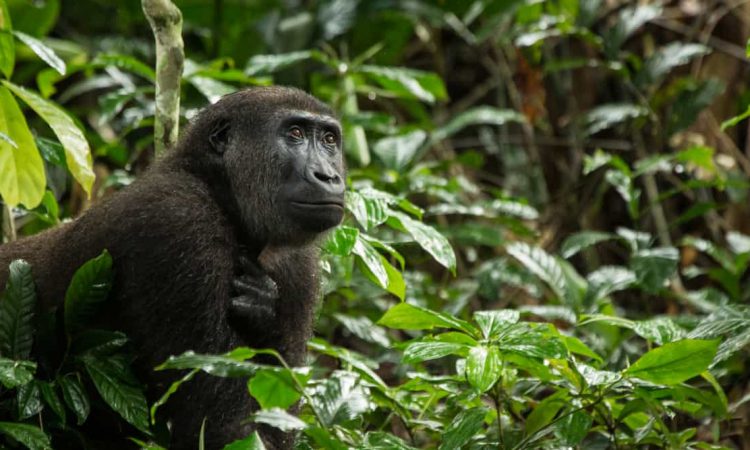 Located near Lake Kivu in the borders of Rwanda and the Democratic Republic of Congo, Kahuzi Biega National Park is an interesting destination in Congo hosting the worlds endangered Eastern lowland mountain gorillas. The Rainforest Park covers 6000 square kilometers of land spread over the two domant hills of Kahuzi and Biega after which the park is named. Adrien Deschryver, the Belgian Wildlife photographer and Conservationist, established the national park in 1970. In 1980, Kahuzi Biega National Park was included on the list of the world heritage sites by UNESCO and its vegetation mainly comprise of lowland terrain and montane forests which provide food and habitat to the endangered gorillas, birds and other primates which live their. The Congolese Institute of Conservation of Nature (ICCN) together with other organizations such as the Wildlife Conservation Society manages gorilla tourism and conservation in Kahuzi Biega National Park. Interestingly, Kahuzi Biega has been relatively peaceful with no registered civil attacks and conflicts unlike in the sister Virunga National Park. Explore the beauty of Kuhuzi Biega National park with Lets Go Tours Rwanda
Top things to see and do in Kahuzi Biega National park
There are lots of things to see and do for travelers visiting Kahuzi Biega National park. A traveler can choose which activity to do depending on his/her travel interests, time and budget. Check for the top attractions and activities in Kahuzi Biega National Park with Lets Go Tours Rwanda. They include:
Eastern Lowland Gorilla Trekking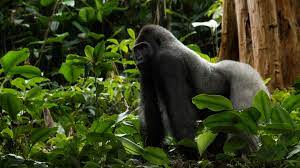 Trekking to see the Eastern Lowland gorillas is the number one travel activity done in Kahuzi Biega National park. The Park is the only place to see these endangered gorillas in the whole of Africa. Apparently, the park is home to over 200 lowland gorillas, which are habituated for trekking. Hiking up and down hill in the forested areas of Kahuzi Biega in search for the gorillas is a strenuous venture but worth it. You can take between 30 minutes to over 6 hours searching for the gorillas but the allowed time with the endangered primates is strictly an hour. You need a gorilla permit to be allowed to trek gorillas in Kahuzi Biega National Park at a cost of $400. Gorilla permit booking is advised as early as possible at least 5 months in advance.
Mountain Climbing
As said already, Kahuzi Biega National park spreads over two mountains (Kahuzi and Biega). Hiking u to the summit of mount Kahuzi standing at 3,308 meters above the sea level offers you great views of the park, Rwanda's hills and the Virunga volcanoes. You can also hike up to the peak of mount Biega at 2,790 meters for a lifetime adventure experience. The slopes of these volcanoes are covered by lush vegetation which shelters endangered gorillas and other wild animals, which you may encounter.
Visit the Lwiro Primate Rehabilitation Centre
Visit the Lwiro rehabilitation Centre in Bukavu town where orphaned primates are taken care of. The orphanage is a Centre for chimpanzee habituation experience where wild chimpanzees are trained to get used with people. The site is home to 13 monkey species, parrots, porcupines and tortoises among other animals.
Bird Watching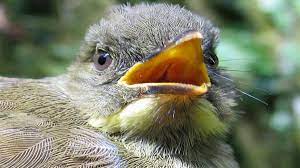 In addition to gorilla trekking, travelers to Kahuzi Biega National park can take part in bird watching experience. The park is home to over 342 bird species 42 f which are endemic to the Albertine region. Some of the birds in Kahuzi Biega National park include African Green Broadbill, Yellow crested helmet shrike, Congo Paefowl, Rockefellers, Ruwenzori Turaco, Shelley's Crimsoning, African Emerald Cuckoo, Olive Long Tailed Cuckoo, Congo peafowl, Grey parrot, Congo bay Owl, Saddle Billed stork, Egyptian Plover, Flamingos, Wagtails, Finches, Old World buntings, Guineafowl, New World quail, Grouse, Grebes, Pigeons, Bustards, Turacos, Cuckoos, Nightjars, Flufftails, Finfoots, Thick knees, Plovers, Painted Snipes, Jacanas, Jaegers, Skimmers, Storks, Boobies, Pelicans, Kites, Barn Owls, Mouse birds, and Hoopoes among others.
Nature/Forest Walks
You can explore the hidden gem of Kahuzi Biega National park by taking part in scheduled nature or forest walks. You will be assigned an armed park ranger to escort you for a nature walk in Kahuzi Biega Park. Enjoy the fresh ambiance of the natural forest.
What to pack to Kahuzi Biega National park
Depending on which travel activity you wish to do, you ought to pack essential things for your successful and enjoyable safari to Kahuzi Biega National park. Some of the key things you should pack include trekking boots, hand gloves, sunglasses, hat, scarf, and insect repellant. Rain jacket and bottled drinking water
Accommodation in Kahuzi Biega National park
For those who want to spend an overnight in Kahuzi Biega National Park, choose from any of the mentioned lodges. These include L'Orchids Safari Club, Coco Lodge, Hotel Begonias, Exodus Bukavu and Mont Kahuzi Hotel Bukavu among others. These lodges offer budget, midrange and luxury food and sleeping services based on the traveler's choice. Lets Go Tours Rwanda helps you book the lodge of your choice ensuring your safety and comfort.
Challenges facing tourism in Kahuzi Biega National park
Poaching is the major threat hindering eastern lowland gorillas in kahuzi Biega National park. A high number of gorillas have been killed by local people for meat, hides and other products. Habitat loss is another challenge facing tourism in Kahuzi Biega National Park. A large portion of this forest has been cleared by people to expand their land for agriculture and settlement. The forest is also hugely affected by oil mining.
Conclusively, Kahuzi Biega National Park is a hidden gem in the Democratic Republic of Congo. Book with Lets Go Tours Rwanda for lowland gorilla trekking, bird watching and other interesting activities in this park at affordable prices.