Virunga National park is Congo's popular park located in the Albertine Rift Valley in the Eastern Province of the Democratic Republic of Congo. The park was garzetted in 1925, which make I Africa's oldest National Par boarded by Mgahinga Gorilla Park in Uganda and Volcanoes National Park in Rwanda. Virunga National park is home to the endangered mountain gorillas, two active volcanoes (Mount Nyamuragira & Mount Nyiragongo) plus numerous birds and monkey species, which together support a variety of experimental tourist activities. UNESCO listed the park among the heritage sites in Uganda due to its rich diversity. For over 20 years now, tourism in Virunga National Park has been greatly affected by civil conflicts, which led the park to be included in the list of world heritage in danger. However, the L'Insitut Congolais pour la Conservation de la Nature (ICCN) together with tourism police and the Government of Rwanda have worked tirelessly to restore peace in the National park. Apparently, the park is open for tourism but armed park rangers guide all gorilla treks and hiking tours. in Congo ensue safety and security. Vegetation in Virunga National park entails swamps, rain forest, and savannahs. Lets Go Tours Rwanda is your best guide to explore the beauty of Virunga National park
Top attractions and activities in Virunga National Park
Travelers on Congo safaris to Virunga National park have a long list of attractions to see and activities to do rewarding them with lifetime experiences. These include:
Mountain gorilla trekking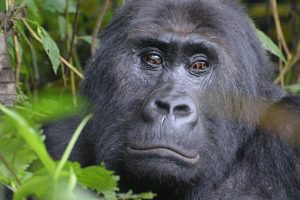 Mountain gorilla trekking is the top bucket list travel experience that attract many travelers to Virunga National park. Enjoy treks through the thick tall forests of Virunga to meet up face to face with the endangered primates, which share over 90% of human genes making them our close relatives. Over 300 mountain gorillas are believed to be sheltered in Virunga Park. Gorillas in Virunga Park are habituated into 8 groups to ease trekking. These gorilla families in Congo include Kabirizi, Bageni, Humba, Nyakamwe, Rugendo, Mapuwa, Munyaga and Lulengo gorilla families. 60 gorilla permits are available each day for travelers who want to visit the gorillas. Like in other gorilla destinations, gorilla trekking is restricted to an hour an only eight people are allowed to visit a gorilla family a day. More so, you require a gorilla permit in order to take part in this lifetime experience. Interestingly, Congo gorilla permits are quite cheaper at $450, which makes Congo the best gorilla safari destination for budget travelers. At the start of a gorilla trek, travelers are briefed on the rules and regulations of gorilla trekking to ensure safety of these endangered primates. These gorilla trekking guidelines include keeping a distance of seven meters away from the gorillas, avoid direct eye contact with gorillas, do not use flash light cameras, do not litter in the park, do not touch the gorilla, keep within your group, do no trek gorillas when sick, don not smoke, eat or drink in the presence of gorillas.
Nature walks
Explore the beauty of this Africa's oldest National park on foot! Nature walking in Virunga National park is your opportunity to discover the hidden gem and it gives you the undisturbed feeling of the natural environment. Different walking trails have been made in the forest leading you to different attractions within the national park. There are trails leading to the caves, waterfalls and water streams. On your nature walk, look closely to discover some n medical herbs used by local people to treat different diseases. Forest walks also give you chance to encounter different wild animals in Virunga Park such as Forest Elephants, Buffalos, mountain gorillas and golden monkeys. You are reminded to wear closed shoes and long pants tucked into the stockings to avoid poisonous bites by ground insects. A walking stick can also ease your walk through the jungle especially in rainy season when forest grounds are slippery and muddy.
Mount Nyiragongo hiking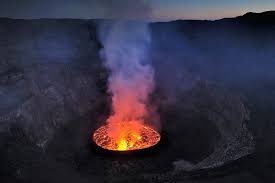 Enjoy hiking to the summit of the active Nyiragongo Volcano toe experience the largest lava lake at 3,470 meters above the sea level. Nyiragongo is one of the 8 volcanoes in the Virunga Conservation Area and its one of the most hiked Volcanoes. Other volcanoes include Mt Karisimbi, Mt Nyamuragira, Mt Bisoke, Mt Mikeno, Mt Gahinga, Mt Sabyinyo and Mt Muhabura. The 3 Days Mount Nyiragongo Volcano is the suitable package to experience this active volcano, which last erupted in 2021. Interestingly, travelers stay overnight on the slopes of the volcano giving them an opportunity to experience the glowing at night. Hiking starts Kibatsi patrol village and all travelers are expected to have reached there by 10:00am.
Bird Watching
Bird watching is yet another interesting activity done in Virunga National park. Being home to over 700 bird species, Virunga National park is an Important Birding Area, which offer you chance to meet a variety of bird some of which are rarely found anywhere else in the world. Some of the birds to see in this rain forest park include Olive Subird, Grey throated Barbet, Rwenzori batis, Yellow Billed berbet, African goshawk, Double toothed Barbet, Great Blue Turaco, Madagascar bee eater, Narrow tailed starling, Skimmers, Bitterns, Ducks, Herons, Narrow tailed Starling and Strip breasted tit among others. Birding in Virunga National park is best done in the morning hours when birds are rising up. Binoculars are highly recommended for birders in Virunga National park.
Where to sleep in Virunga National park
Choose any of the popular lodges and camps in Virunga National park for your overnight stay. Some of the best places to stay in Virunga National Park include Mien Lodge, Virunga Lodge, Ingagi Park View Lodge, Bukima Tented Camp, Lulimbi Tented Camp and Kibumba camp among others. Travelers hiking Nyiragongo Mountain stay in bandas and tents on the slopes of the volcano. NOTE: There is no luxury lodges and or hotels at the slope of Nyiragongo Volcano.
Generally, a Congo safari to Virunga National Park is worth your time, money and energy. Lets Go tour Rwanda guides to Virunga National Park for gorilla trekking, Nyiragongo volcano hiking and other adventure experiences at affordable prices. Contact us for more info and bookings to Virunga National park.