In Uganda, mountain gorillas can be trekked from both Bwindi Impenetrable Forest and Mgahinga National Parks. Altogether, there are 13 habituated gorilla family groups in Uganda with 12 habituated in Bwindi Forest and 1 in Mgahinga National Park. This emphasizes the fact that Bwindi Impenetrable forest National park is home to over 400 existing mountain gorillas marking half of the world's total surviving population. The 17 gorilla family groups of Bwindi are distributed in a way that 11 are readily available for tourists and 1 is strictly set aside for research and study purposes. All these gorilla family groups can be tracked at any time of the year depending on one's choice which at times may be determined by the wet and dry seasons with the dry seasons most recommended, prices, climate changes back at the visiting country, etc.
Recently, in addition to Uganda's 13 gorilla families that are usually visited / trekked, the Uganda wildlife Authority has introduced gorilla habituation process – the process of training and taming the amazing giants on how to coexist with the human beings harmoniously.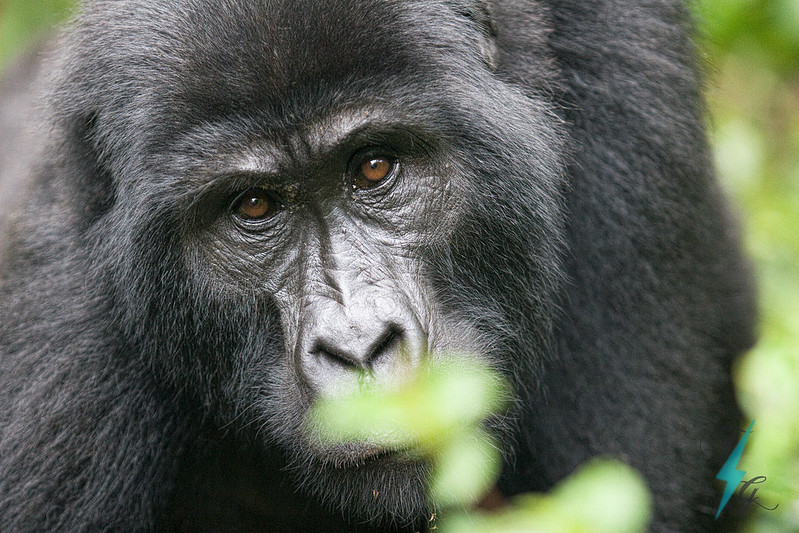 Mountain gorilla habituation is carried out in the Rushaga sector of Bwindi Forest NP to 2 gorilla family groups of Bushasho and Biking. These together with the other 12 family groups can be enjoyed by visitors at any time of the year.
The gorilla habituation process is enjoyed at$1500 for per person while mountain gorilla trekking is taken at $600 for per person during the peak seasons of June, July, August, September, October, December, January – March and at $450 for per person during the low seasons of November, April and May.
The different gorilla family groups that can be visited while on a vacation in Uganda are; Mubare, Habiyanja, Rushegura, Bitukura, Oruzogo, Nkuringo, Nshongi, Mishaya, Kabungye, Bweza, Busingye, Nyakagezi, and Kyaguriro; all distributed to the different sectors of Buhoma, Rushaga, Ruhija and Nkuringo.
BUHOMA SECTOR
In the Buhoma Sector of Bwindi NP we find Mubare, Habiyanja and the Rushegura gorilla family groups.
Mubare Family: Uganda's oldest habituated family group was first visited in 1993. The group was named after the Mubare Hill, where it was first seen. It initially consisted of 18 individuals under the leadership of Rushondeza but was reduced to 5 members by 2012 due to the continuous fights with other wild groups, diseases, poachers and even death of the new ones. Rushondeza, a brave silverback, had lived for over 50 years until 27 – June – 2012 when he was put to rest. His grave is found within the Buhoma sector of Bwindi and also open for visitors.
Apparently it's a family of 8 individuals thanks to Kanyonyi, Rushondeza's successor who has again expanded the group.
Habiyanja Family: This family received its habituation process in 1997 and by 1999 was able to receive its first tourists. It was named after the swamp found within the Bwindi Forest of the Buhoma sector; Habiyanja – a kikiga word for water. At its habituation process, the group was under the leadership of Mugurusi- the Old man who later passed on and left power to his 2 sons (Rwasingazi and Mwirima) who had different leadership skills and beliefs. A one Rwasingazi was a very adventurous activist and loved travelling as compared to Mwirima who proffered staying at one spot.
This led to their peaceful separation in 2002; forming the Rushegura group under Mwirima and the Habiyanja group that stayed under Rwasingazi, sometimes they are known to meet and even coexist harmoniously with each other.
Apparently, this group consists of 17 individuals with 2 dominant silver backs.
Rushegura Family: This group arose after Mwirima's separation from Rwasingazi of the Habiyanja family in 2002. It was named after the Rushegura tree within their compound from where the separation took place. It's a renowned calm family within the Bwindi Forest NP. Initially, after the break away from the Habiyanja family, the group consisted of 12 family individuals with 5 females but by 2010, the numbers of this group had increased to 19 individuals and with 1 dominant silverback.
It's actually the easiest group to track in the Bwindi Forest as its young juvenile gorillas are always seen wondering around the guest camps and lodges.
RUHIJA SECTOR
In the Ruhija sector of Bwindi Forest National Park we find; Bitukura and Oruzongo gorilla family groups.
Bitukura Family: This is considered the most brilliant gorilla family group of Bwindi Forest NP due to its shortest habituation period. It was habituated for only 15 months as compared to the normal habituation period of 2 – 3 years. It was habituated in July 2007 and by October 2008; the group was ready to receive its first human visitors.
Initially, at the time of its habituation, the group consisted of 24 family members who have been reduced to 14 individuals over the past years due to diseases and attacks from other wild gorilla family groups. In 2013, the group was blessed with another member, born to Ruhara and Ndahura.
Another unique feature about this family, is the fact that it's made of 4 silverbacks coexisting with each other and as if that's not enough, It's a very peaceful family group under the leadership of the youngest silverback Ndahura.
Oruzogo Family: This is yet a newly habituated gorilla family group in Bwindi Forest NP.It first received its tourists in 2011.
Something unique about this group is its numerous births; it's due to these that the group has seen to expand. For starters, in 2011, the group experienced 2 births from Ntamurungi and Musi and in 2012, it further received a set of twins born to Kakoba.
This group is made of 23 individuals under the leadership of Tibirikwata.
NKURINGO SECTOR
Nkuringo sector of Bwindi Forest NP is habituated by only 1 gorilla family group; Nkuringo.
Nkuringo Family: This was habituated by 2004, when it received its first visitors.
It was named Nkuringo – after a round hill around which it was first sighted. Before its habituation, it was a great threat to the villagers as it used to feed on and destroy their crops.
Initially it was under the leadership of a dominant silverback Nkuringo who later passed on in April 2008; leaving his power to Safari, one of his sons the other being Rafiki. It was also blessed with a set of twins; Katungi and Muhozi , born to Kwitonda though Katungi fell sick and died shortly.
Apparently, the group is made of 19 family members with 2 silverbacks.
RUSHAGA SECTOR
This is actually the most blessed part of Bwindi Forest NP; habituated by 5 gorilla family groups that is Nshongi , Mishaya, Kahungye, Bweza,and Busingye together with the Gorilla Habituation families of Bishasho and Biking.
Nshongi Family: This was the largest group ever habituated in Bwindi Forest NP; consisting of 36 individuals with 3 silverbacks and 7 blackbacks all coexisting in one group harmoniously.
It was named after "Omushongi Gwoboki" – a Kikiga word for honey and it's around this area that the group was forst sighted at the time of its habituation process.
The group received its first visitors in September 2009 under the leadership of Nshongi until in July 2010 when it split up into 2 families forming the Nshongi and Mishaya family.
Apparently, Nshongi gorilla family consists of 26 members with 4 silverbacks.
Mishaya Family: This is the group that was formed after it's separation from the Nshongi family in 2010.
Mishaya, a fighter he is tore away from his main family with 10 members and has continued to have several fights with other gorilla families.
Apparently, the Mishaya group is made of 12 family members with 1 dominant silverback.
Kahungye Family: This is among the newly habituated gorilla family groups. It received its first visitors in October 20111 and shortly after, it split up forming a new group of the Busingye gorilla family group. At the time of its habituation, it consisted of 27 individuals with 3 silverbacks; Apparently it's a group of 13 family members with 3 silverbacks.
Bweza Family: This is yet another family group that was formed after breaking away from the ever large gorilla family group of Nshongi. Bweza was ready for its first visitors in 2012 and apparently consists of 9 family members with 1 dominant silverback.
Busingye Family: This too is amo0ng the most recently formed groups; came into light in 2012 after breaking away from the Kahungye gorilla family group in June. It's said to be a peaceful family as stated by its name Busingye for peace; quite the contraly to it's dominant silverback who is always fighting for more members on his group.
Busingye is a family of 9 individuals with 1 dominant silverback.
Nyakagezi Family: This a well renowned family group due to its constant movements within the Virunga states of Rwanda, Uganda and even the Democratic Republic of Congo.
Nyakagezi gorilla family group, is the only existing gorilla family in Mgahinga National Park. This mobile family is said to have finally settled in Uganda as it's been quite a while since 2012 when it last crossed to either Rwanda of Congo.
It's a family of 10 individuals with a dominant silverback Mark who's very adventurous and loves traveling.
Please Note:
As earlier stated, Uganda has 13 gorilla family groups in total with 12 available for tourists while 1 is strictly set aside for research and study purposes.
The Kyaguriro Family of Ruhija sector, is a fully habituated gorilla family group but is only restricted for study and research purposes. This particular group is made of 15 family members with 2 Silverbacks under the leadership of Rukina, who became leader after overthrowing Zeus- the original head.
Also, there are some 2 more families from the Rushaga sector that are still undergoing the habituation process that's Bushaho and Biking; which can also be visited during the gorilla habituation process at $1500
For more information on habituated gorilla groups in Bwindi Impenetrable Forest and Mgahinga Gorilla national Park, Contact us!. Lets Go Tours Rwanda helps you book and reserve your desired gorilla family to trek on your Uganda gorilla safari