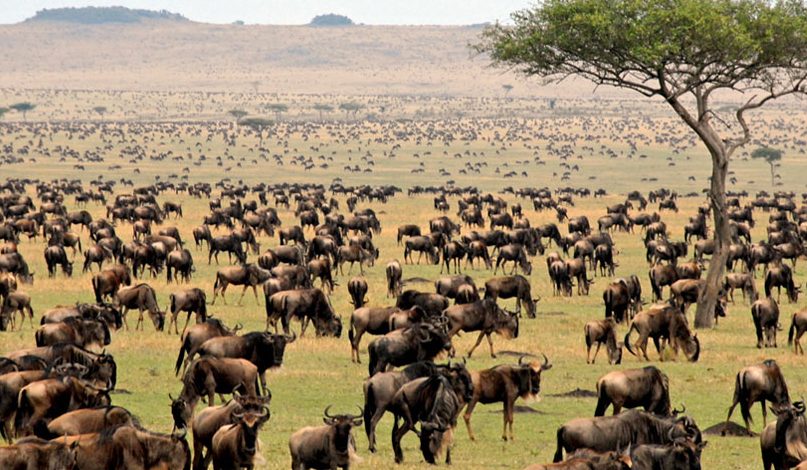 A symbol of Tanzania's splendorous natural beauty, Serengeti National Park welcomes thousands of travellers each year, who are drawn to its wide array of bird species, diversity of wildlife species, magnificent Rivers, spectacular savannah plains and awe-inspiring tourist adventures. Whether you are looking for a safari experience of a lifetime, wish to immerse yourself in the tranquility of nature or simply Camp in one of the most extraordinary African wilderness areas, you will definitely find your slot within Serengeti National Park guided by Lets Go Tours Rwanda. For an area of 5700 square miles, Serengeti National Park is one of the largest and undeniably most popular safari destinations in Africa. No National Park in the Continent spells the word Paradise properly like Serengeti National Park and you will love it for the annual migration involving approximately 1.5 million wildebeests, not less than 200,000 zebras and gazelles that start their journey from Serengeti's endless plains to the spectacular landscapes of Masai Mara National Reserve, in the neighboring Kenya.
Serengeti National Park is undoubtedly the accessory of the Mara-Serengeti Ecosystem that also comprises of Masai Mara National Reserve in southern Kenya and well as Ngorongoro Conservation Area.
Three significant regions make up the beautiful Serengeti National Park that includes the renowned Serengeti Plains comprising of endless savannah grasslands, which is the most outstanding scenery of this Protected Area. Additionally, it is known as the breeding area for the wildebeests from December through May. This stunning region is also known for its huge herds of angulates especially Cape buffaloes, Defassa waterbucks, gazelles, Jackson's hartebeests, Topis, Tree hyrax and impalas as well as snakes such as the African Rock pythons.
The northern Serengeti is another remarkable region in this Protected Area known for its open woodlands as well as hills that stretch from Seronera in the south to Mara River along the Kenyan border. Common in this region are by Elephants, Kirk's Dik-dik zebras, wildebeests Masai giraffes and many others.
The western corridor is also part of Serengeti National Park, marked by black clay soils that cover the extensive savannah grasslands of the Protected Area. Here, unique wildlife species especially Patas monkeys, Black and white colobus monkeys, Hippos, Nile crocodiles and Martial Eagles are common.
The Location of Serengeti National Park
Find Serengeti National Park within the north-western corner of Tanzania and is adjacent to southern Kenya where it forms a continuous edge with the spectacular Masai Mara National Reserve, Tanzania's Ngorongoro Conservation Area to its south-eastern side as well as Grumeti and Ikorongo Game Reserves in the west, Loliondo Game Control Area to its East and North-Eastern corner and Maswa Game Reserve to its south-eastern side.
Serengeti National Park establishment history
First Protected in 1951, Serengeti National Park put to an end inhabitation in an area that was originally occupied human ancestors for over 4 million years. It received its UNESCO World Heritage Site status in 1981 due to its rich biodiversity.
What to see within Serengeti National Park
Wildlife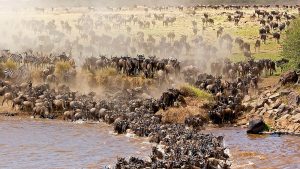 Serengeti is one of the World's Top National Parks, owing to its wildlife diversity. First, it is one of the only two places where the annual migration involving 2 million wildebeests, plain zebras and gazelles is hosted. These animals move across the Serengeti-Masai Mara Ecosystem.
Besides that, you will find other outstanding wildlife species in Serengeti National Park and these include black and white colobus monkeys, African leopards, black mamba, African golden wolf, Aardwolves, Topis, East African wild dogs, Eastern black rhinoceros, Cape buffaloes, bushbucks, common genet, cheetahs, Aardvark, lions, Coke's hartebeests, Defassa waterbucks, Caracal, common elands, olive baboons, common warthogs, Dik-dik, common duikers, crocodiles, spotted hyenas, Oribis, Cape hare, African bush elephants, lesser and greater kudu, striped hyenas, Patas monkeys, Jackals, vervet monkeys, Klipspringers, Fringe-eared Oryx, ground pangolin, bat-eared fox, Masai giraffes, Roan antelopes, Sable antelopes, Honey badger, Hippos, Steenbok, hyraxes, and so much more.
Birds
Serengeti National Park is also synonymous with unmatched birding experiences in Tanzania, with over 500 species of birds to look out for. The notable bird species in this Protected Area include African fish eagles, black herons, Egyptian geese, Grey-crowned cranes, cattle egrets, Kori bustards, Marabou storks, martial eagles, Hadada ibis, Masai Ostriches, sacred ibis, secretary birds, saddle-billed storks, shoebill storks, pink-backed pelicans, lesser flamingos, red-billed hornbills, knob-billed ducks, Oxpeckers, to mention but a few.
Aside animals and birds, Serengeti National Park visitors have the opportunity of exploring the outstanding Olduvai Gorge where fossils of early man where dug by Dr. Louis Leakey, the beautiful Moru kopjes with the highest Rhino population in Serengeti National Park, the popular Grumeti River where the annual Great migration is experienced in addition to Seronera River Valley where wide array of wildlife and bird species are spotted and finally the Retina Hippo pool where the Park's highest Hippo population is found.

Interesting Visitor experiences within Serengeti National Park
Game drives
It is difficult to imagine exploring Serengeti National Park without driving through some of its wildlife-rich areas. The Park is full of cheetahs, striped hyenas, Cape hares, African bush elephants, wildebeests, Topis, Defassa waterbucks, Olive baboons, impalas, Cape buffaloes, Aardvarks, East African wild dogs, bushbucks, Coke's hartebeests, wildebeests, zebras, Masai giraffes, gazelles, black and white colobus monkeys, Hippos, Roan antelopes, bat-eared foxes, Sable antelopes and so much more.
Hot air balloon tours
Serengeti National Park is the most popular hot air balloon tours' safari destination in Tanzania and for adventure-seekers, it is the best way to watch the largest part of the Protected Area. Enjoy eagle-eye views of the jaw-dropping Serengeti landscape to witness sunrise or sunset, lots of wildlife and bird species and most importantly the changing ecosystems.
Walking safaris
Serengeti National Park offers one of the most outstanding ways of experiencing the wilderness, through walking safaris. One of the Protected Area's renowned walking safaris is the Bologonja Springs, Grumeti Rivers, the stunning Retina Hippo Pool, the Rock outcrops and also Seronera River Valley where wide array of wildlife and bird species can be spotted during tours of Serengeti National Park.
Bird watching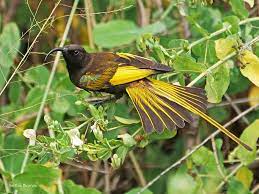 First-time and regular visitors in Tanzania can experience Serengeti National Park's plethora of bird species through guided bird watching safaris. Here, the African fish eagles, secretary birds, Grey-crowned cranes, sacred ibis, Oxpeckers, Hadada ibis, Kori bustards, shoebill storks, saddle-billed storks, white storks, lesser flamingos, pink-backed pelicans, martial eagles, cattle egrets and many others are likely to be encountered during these expeditions.
Olduvai Gorge Tours
As most travellers only think of Serengeti National Park for its natural treasures, the Olduvai Gorge-the "cradle of Humanity" is also explored. Humans are believed to have occupied the area for over 4 million years and if you ever wished to learn about the evolution of humanity, then Serengeti National Park has got you covered. The adjacent area was excavated by Dr. Louis Leakey, with several fossils and tools dating back to 2 million years discovered in the area.
Witnessing the Annual migration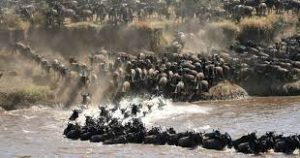 Another popular tourist experience in Serengeti national Park is witnessing the annual the annual migration that involves wildebeests, zebras and gazelles. The best part of this adventure is the crossing at Grumeti River.
Community Visits
Discover the pastoralist lifestyle of the Masai people by taking part in their traditional songs and dances, touring their traditional homesteads, tasting their local dishes, purchasing some of their art and craft objects and so much more.
Best time to experience Serengeti National Park, Tanzania
Serengeti National Park's natural beauty can be experience all-year round but specifically, the months of January, February, June, July, August, September and December are perfect for most activities. This is because rains are reduced and animals normally gather around water sources hence providing unrivalled game viewing experiences.
This time also makes it possible to maximally experience the great annual migration involving wildebeests, gazelle and zebras that move northwards of Serengeti National Park towards the Masai Mara National Reserve of Kenya.
Where to stay
Serengeti National Park has one of the most numerous and diverse accommodation options for all categories of visitors. These are in budget, midrange and luxury, and include Singita Mara River Tented Camp, Mbalageti Tented Safari Camp, Serengeti Pioneer Camp, Kirawira Tented Lodge, Grumeti River Tented Lodge, Lemala Mara River Luxury Camp, Migration Tented Lodge, Soroi Serengeti Lodge, Mbuzi Mawe tented Camp, Serengeti Mara Camp, Lobo Wildlife Lodge, Serengeti Simba Lodge, Serengeti Sopa Lodge, Ndutu Wilderness Camp, Roving Bushtop Camp, andBeyond Serengeti Under Canvas, Kati Kati Camp, Ehlane Plains Camp, Kleins Camp Serengeti, Ngome Camp, Four seasons Safari Lodge, Melia Serengeti Lodge, Kilima Valley Serengeti Tented Lodge, Singita Sabora Tented Camp, Serengeti Serena Lodge and so much more.
Getting to Serengeti National Park from Arusha
Found in the north-west of Tanzania, Serengeti National Park is at least 6-7 hours' drive from Arusha Town and this depends of the route you are using. Air is the easiest way of reaching the Protected Area from mainly Kilimanjaro International Airport to the Park's southern gate. Scheduled flights from Arusha or Kilimanjaro International Airport to any of the 7 airstrips of Serengeti National Park take from one to two and a half hours.
Journeys from Arusha Town to Serengeti National Park can take up to 8 hours, via any of the four entrance/exit gates that include Ndabaka Gates, Bologonya, Klein's and Naabi Hills Gates.