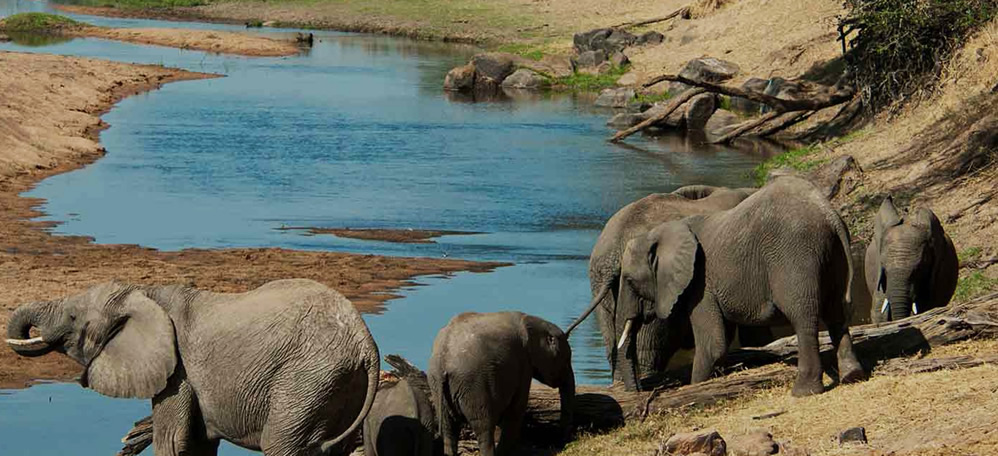 Known for being one of the magnificent game viewing places in Tanzania, Ruaha National Park is nestled within the heart of this East African country. Are you looking to enjoy game viewing safaris in less crowded places? Then the stunning Ruaha National Park is where you have to be. Expect unrivalled wildlife viewing, secluded birding tours, second to none walking safari experiences and hot air balloon tours and many other experiences. Ruaha National Park is part of the rarely-explored southern circuit and about 81 miles west of the City of Iringa. This Protected Area is surrounded by Selous Game Reserve to the East and Rungwa Game Reserve to the North.
In terms of size, the border of Ruaha National Park were annexed to include the phenomenal Usangu Game Reserve and other adjacent important wetlands in 2008 encompass a total area of approximately 2,022,600 hectares or about 7809 square miles hence making it the largest National Park in Tanzania.
Ruaha National Park, together with the three adjacent Wildlife Reserves-Muhesi, Kizigo and Rungwa in addition to the Mbomipa Wildlife Management Area are surprisingly part of the extensive 4500000-hectare Rungwa-Kizigo-Muhesi ecosystem. Surprisingly even with its huge size, this Protected Area still doesn't receive the publicity and crowds as experienced in other National Parks in the Northern circuit. This in one way or the other makes it a wonderful safari destination for travellers looking to experience wildlife in seclusion. Discover all about Ruaha National Park with Lets Go Tours Rwanda, the trusted travel agency in East and Central Africa!
Establishment of Ruaha National Park
Named after the great Ruaha River, Ruaha National Park shouldn't miss on your bucket list for Tanzanian Safaris. This beautiful River flows along the south-eastern side of this Protected Area in addition to serving as the lifeline of
wildlife and avifauna.
The name "Ruaha" means "River" in the local Hehe language and was associated with the Protected Area that first existed as "Saba Game Reserve (named by Germans) since 1910. The name change was effected in 1946 by the British Colonial Authorities to Rungwa Game Reserve. It received its National Park status in 1964 and is now under the management of Tanzania National Park Authority. .
Ruaha National Park weather
The temperature of this Park is generally hot with dry and bimodal rain patterns. It is characterized by two seasons-the dry and wet season. Long rainy seasons are in March through May and the short one is in November through December. Precipitation is from 500 to 800 millimeters per annum with average temperature of 28˚C. The dry season is in months of January, February, June, July, August, September, October and December with average temperature of 35˚C.
Unique attraction within Ruaha National Park
Wildlife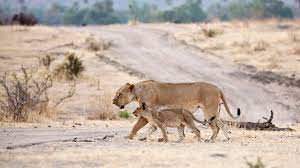 Wildlife species are the commonest attractions of Ruaha National Park with sights of lions (that surprisingly include about 10% of the entire World's Lion population). Other species that call this Protected Area home include African buffaloes, black-backed jackals, African leopards, East African wild dogs, zebras, Sable antelopes, black-backed jackals, the endangered cheetahs, giant elands, East African cheetahs, Masai giraffes, bat-eared foxes, Lichtenstein's hartebeests, Defassa waterbucks, Thomson's gazelles, monitor lizards, Roan antelopes, crocodiles, greater and lesser kudu, Agama lizards, Hippopotamus, bushbucks, spotted hyenas, elephants, Striped hyenas, to mention but a few.
Majority of these wildlife species are spotted near dry riverbeds while drinking water or the thickets (big cats) lying patiently or stealthily walking in the tall grasslands.
Birds
Tanzania's largest National Park is haven to over 570 species of birds which include the Crested barbets, African fish eagles, Martial eagles, African hawks, Namaqua doves, Southern ground hornbills, Eleonora's falcon, Bateleur, Yellow-collared lovebird, red-billed hornbills, Green wood hoopoes, Ashy starlings, southern ground hornbills, Ruaha Spur-winged goose, Goliath herons, Emerald-spotted wood doves, Giant kingfishers, Pale-billed hornbills, crested barbets, superb starlings, Violet-crested Turaco, Black-bellied bustard, Red-necked spurfowl, Dickinson's kestrel, Ostriches, collared palm-thrush, the black-bellied bustard, snake eagles, Giant kingfishers, the red-billed Oxpeckers, Long-crested eagles, Golden-breasted bunting, Racket-tailed rollers, sunbirds, Pel's fishing owls, Long-crested eagles, Sooty falcon, white-bellied go-away bird, Cattle egrets, to mention but a few.
Ways of experiencing the hidden beauty of Ruaha National Park
Game viewing
Game viewing is perhaps the most all-encompassing way of experiencing the hidden beauty of Ruaha National Park where wide array of wildlife species, jaw-dropping sceneries in form of magnificent landscapes, the mighty Ruaha River are relished aboard an open-roof safari vehicle. While on thrilling adventure, expect to come across lots of animals that include giant elands, Roan antelopes, leopards, buffaloes, Sable antelopes, lions, impalas, cheetahs, warthogs and so much more in the different ecosystems-woodlands, River banks and the open plains.
Birding Tours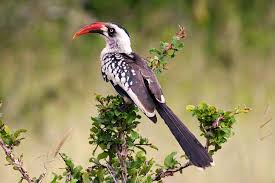 Grab your bird guidebook, binoculars, camera and drinking water, then brace yourself with hiking boots for the unrivalled bird watching experience in Ruaha National Park, where over 570 bird species are sheltered. This makes it one of the hot spots in Tanzania and birders are introduced to the Racket-tailed rollers, the collared palm-thrush, Red-necked spurfowl, Cattle egrets, Martial Eagles, Ostriches, African hawks, Ashy starlings, Crested barbets, white-bellied go-away bird, Regal sunbirds, Southern ground hornbills, Bateleur, Black-bellied bustard, Sooty falcon, crested barbets, collared palm-thrush, the black-bellied bustard, snake eagles, Giant kingfishers, the red-billed Oxpeckers and so much more.
Hot air balloonTour
By air, you can explore the beautiful and varied landscape of Ruaha National Park where you will see variations in terms of verdant rolling hills, open savannah plains, woodlands, and Rivers like Ruaha and Mwagusi. You will also see animals roaming across the Park's vast landscapes. Commonly spotted are elephants, buffaloes, giraffes, Hippos and giant elands among others.
Walking safaris
There is no better way of experiencing the authentic wilderness of Ruaha National Park than undertaking walking safaris. These bring you up-close to the hidden gem in form of wildlife and birds with their natural habitats and are mainly undertaken through the sweeping open plains while appreciating the intimate details in the company of an expert Park Ranger.
Best Time to experience the natural beauty of Ruaha National Park
Ruaha National Park's weather is hot and dry with the dry season extending from June through September and December through February. In these months, days are warm and sunny making scantier and thinner vegetation as well as reducing water sources. These conditions are just ideal for game viewing.
All in all, Ruaha National Park is all-year round destination because the birders prefer the rainy season from March through May and October through November when the migratory birds are in abundance. The wildflowers also bloom and grasslands become lusher hence creating a wonderful backdrop for landscape photography.
Still on the dry season, travellers are treated to golden-brown savannah plains dotted with baobabs and misty hills that stretch across the Horizon. However when the rains come back again, the savannah grasslands become luxuriant making the baobabs to bloom.
Where to stay while exploring Ruaha National Park
The beauty of Ruaha National Park is not just about wildlife and landscapes but also the places of lodging that range from budget to upmarket and anything between. They are in form of Campsites, Tented Camps, Safari Lodges, Bandas and Hotels.
Ruaha River Lodge
Ruaha River Lodge is undeniably the crown jewel of Ruaha National Park and is strategically situated to overlook River Ruaha. Its 24 airy stone and thatch Bandas are scattered along the banks of this River and guests are guaranteed of seclusion, spacious living area, private bedrooms with twin/double/triple beds, workspace with writing desk and chair, generally stone floors, vast and open private bathroom at the back of each Banda. Visitors can gather around the two lounge, enjoy meals at the dining areas in addition to the vast open-sided thatched building with well-furnished red floors, comfortable couches and many other amenities.
Jabali Ridge
The luxurious Jabali Ridge is a small and elegant accommodation facility featuring 8 suites that sit high on a Rocky Kopje and overlook the spectacular Ikuka Escarpment, beautiful vegetation like palm and baobab and the Mwagusi River.
Jongomero Camp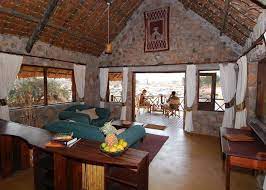 For travellers looking to experience the real wilderness experience, Jongomero Camp is the perfect place to be and is perfectly sparkling along the pristine banks of the Jongomero Sand River. This 8-thatched and Tented Lodge is set on a raised wooden platform to reflect the authentic seclusion of East African safaris.
Each of its Tents features an en-suite bathroom, private veranda but guests can also enjoy other stunning amenities in form of luxurious swimming pool, convivial bar stocked with different kinds of drinks, a spacious dining area, the Campfire and picnic site among others.

Mwagusi Safari Camp
Mwagusi Safari Camp is a jaw-dropping accommodation facility managed by Chris Fox and is hidden within the remote wilderness of Ruaha National Park. Here, guests are treated to the realest wilderness Camping experience provided at its rustic luxury Tents. Guests also enjoy a feeling of Tanzanian relaxation and the food here creates an indescribable "wow" factor.
The likes of Kwihala Camp, Chogela Tented Camp, , Ruaha Hilltop Lodge, Chogela Camp, Ikuka Safari Camp, Tandala Tented Camp Sunset Mountain Lodge, Mdonya Old River Camp, Kigelia, Kichaka Camp and Ruaha River Campsite also offer unforgettable experiences for Ruaha National Park visitors.

Getting to Ruaha National Park
Situated about 80 miles from Iringa City and over 388 miles from Dar es Salaam City, Ruaha National Park is reachable by air or road. For air travellers, there are two airstrips named Msembe and Jongomeru. For road users, the Park is reached via a dirt road from Iringa Town while travellers from Dodoma, Dar es Salaam, Kigoma and Arusha can also easily reach Ruaha National Park.