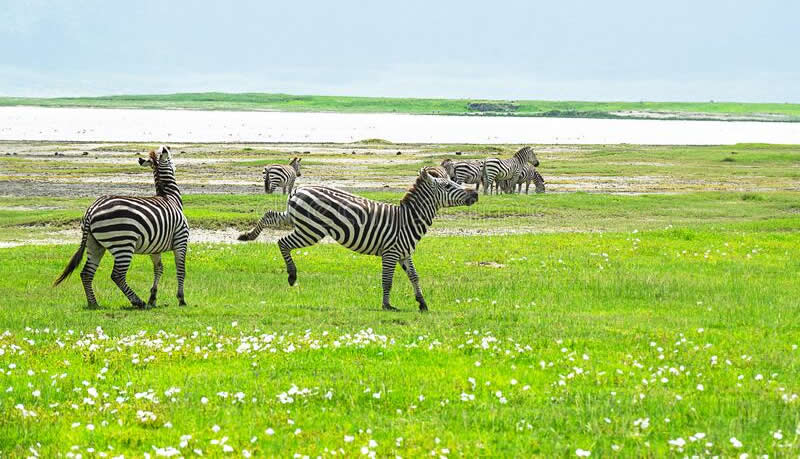 Set in the northern circuit and adjacent to Serengeti National Park, Ngorongoro conservation Area is one of the Protected Areas within Tanzania. This UNESCO World Heritage Site is one of the few places on Earth that will make you appreciate that Paradise indeed exists. It derived it name from the Ngorongoro Crater, an extensive intact volcanic Caldera making it one of the true Natural Wonders within the African Continent. The Ngorongoro Crater is one of the World's largest unbroken Calderas and undoubtedly the most popular feature of this Protected Area. Lets Go Tours Rwanda is your ebst guide to explore Ngorongoro Conservation Area.
Ngorongoro Conservation Area size and location
Ngorongoro Conservation Area sits within the Crater Highlands Area of Tanzania, approximately 110 miles west of the Town of Arusha Town in Northern Tanzania. It is adjacent to Serengeti National Park thus making it a perfect add-on safari destination for safaris in the Northern Province and extends across the Eastern Rift Valley of Eastern Africa. The 3202 square miles of this Protected Area mainly comprises of highland plains, forests, savannah grasslands and woodlands which are managed by the Ngorongoro Conservation Area Authority.
History of Ngorongoro Conservation Area
Ngorongoro Conservation Area officially received its Protected Area status 1959 as a multiple land use area whereby wildlife peacefully co-existed with the Masai pastoralists. It was named by Masai pastoralists after the "Ngoro Ngoro" cowbell sound but became a UNESCO World Heritage Site since 1979. The Ngorongoro Wildlife Conservation Act of 2009 imposed new restrictions on settlement as well as subsistence agriculture within the Crater area thus displacing the pastoralists, yet most of them had been relocated to the Protected Area from their original lands to the northern sides of Tanzania after the British Colonial Government gazetted Serengeti Park in 1959.
What to see while exploring Ngorongoro Conservation Area
It is not magic or rocket science that Ngorongoro Conservation Area attracts over half a million people each year and this is attributed to the;
Wildlife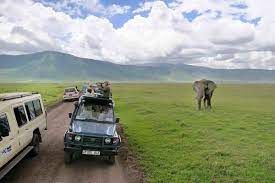 Ngorongoro Conservation Area's varying habitats and landscapes in form of savannah grassland plains, woodlands, Rivers, Volcanic Craters, Lakes swampland and lush forests are haven to wide range of wildlife species that will be encountered during guided tours. Here, the miniature of Great annual migration is experienced and this involves wildebeests, gazelles and zebras.
Other animals here are lions, Black rhinos, cheetahs, African buffaloes, Bohor reedbucks, blue monkeys, East African wild dogs, black-backed and side-striped Jackals, African leopards, Caracals, Defassa waterbucks, Coke's hartebeests, Common elands, African golden Cats, Topis, Masai giraffes, warthogs, spotted hyenas, Hippos, impalas, serval cats, Oribis, and so much more.
Birds
Ngorongoro Conservation Area alone is haven to 500 bird species whereby Rufous chatterer, Tacazze sunbirds, superb starlings, Verreaux's eagles, Kori bustard, silvery-cheeked hornbills, lesser and greater flamingos, Kenya Rufous Sparrow, Jackson's widowbird, Ostriches, Black kites, Black-winged lapwing, Bronze sunbirds, Augur buzzard, Verreaux's eagles, Namaqua doves, Scarlet-chested sunbirds, white-eyed slaty flycatcher and many others are sighted during birding excursions.

Other attractions
Aside the wildlife and bird species in Ngorongoro Conservation Area, travellers have a chance of seeing historical and cultural sites that are second to none. With tours of this safari destination, popular archeological sites like Olduvai Gorge and Laetolil are also explored. Travellers can see the hominin fossil remains that date back to 2.1 million and 3.6 million years ago.
Also within or close to Ngorongoro Conservation Area are the spectacular Lakes Ndutu and Maseke, Lake Magadi, Goi Mountains, Empakai Crater, Olkarien Gorge, the shifting sands of Ngorongoro, Ngoitokitok Springs, Olmoti Crater, Nasera Rock, Lerai Forest, Rumbe Hills, Mandusi and Gorigor swamps and many others.
Visitor experience within Ngorongoro Conservation Area
Watching the Great annual migration
The Great annual wildebeest migration is one of the Earth's most phenomenal spectacles and undeniably one of the top tourist experiences for travellers to Tanzania's Northern Province. Each year, over 2 million wildebeests, Zebras and Gazelles make a grand journey from Serengeti (large scale) and Ngorongoro Conservation Area (miniature) to the savannah plains of southern Kenya (Masai Mara National Reserve).
Bird watching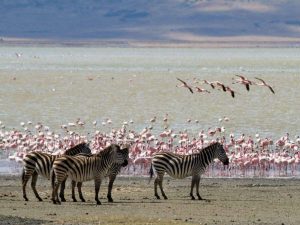 If you have dreams of experiencing what Tanzania birding tours are all about, you ought to book a bird watching experience in Ngorongoro Conservation Area where over 500 species have been recorded. The different ecosystems of Lakes, forests, savannah grassland, woodlands, River, the Crater floor and wetlands are all natural habitats for different bird species that include Grey-crowned cranes, yellow-billed storks, superb starling, Raptors, saddle-billed storks, secretary birds, Bronze starlings, Kori bustards, Verreaux's eagles, lesser and greater flamingos, Ostriches, to mention but a few. While birding tours are offered throughout the year, the rainy season is considered the most ideal time for watching many avifauna species as flowers are booming and these creatures are breeding with many migrant species.

Game drives
Game drives in Ngorongoro Conservation Area are unsurprisingly on a level of their own. The best spot for these adventures is Ngorongoro Crater floor, where its savannah plains provide travellers with rare glimpse of the big cats especially cheetahs, lions, leopards and African wild cats in addition to Masai giraffes, Black rhinos, Grant's zebras, African bush elephants, giant elands, Cape buffaloes, Topis, impalas, Coke's hartebeests, Defassa waterbucks and hartebeests among others. Early morning game drives increase chances of spotting nocturnal wildlife species while afternoon drives are perfect for angulates and the evenings are handy for identifying more nocturnal species.
Wildlife Photography
Are you a professional or simply leisurely photographer? It would interest you to know that Ngorongoro Conservation Area is one of the unmissable spots in the African Continent. Its varying landscapes as well as wildlife and bird diversity has made it many travellers' favorite and must-visit safari destination.

Guided bush walks
There are many places offering quality guided bush walks around the African Continent but there's nothing like the ones in Ngorongoro Conservation Area. Thanks to its exceptional landscape that makes it adventurous yet very rewarding to undertake these guided walks. Are you the adventurous or laid-back type? Still areas like the floor of the Great Rift Valley, Olkarien Gorge, Empakai Craters, the forest galleries, Nasera Rock, the spectacular Ngorongoro Crater and Olmoti Volcano can never disappoint you.
A wide array of bird species that include lesser and greater flamingos, mountain buzzard, African fish eagles, crowned eagles, Verreaux's eagles, Namaqua doves and secretary birds are unmissable during these adventures but also be prepared for see Defassa waterbucks, African leopards, common elands, Black rhinoceros, Masai giraffes, Cape buffaloes, Hippos, impalas, lions, leopards, warthogs and cheetahs among others are common.
Community visits
For a taste or rare glimpse into the traditional Masai pastoralist lifestyle, there is undeniably no better place to go other than the surroundings of Ngorongoro Conservation Area. They involve guided walks by Masai warriors dressed in traditional attire taking tourists to their traditional villages to learn about their riveting culture, interesting traditional dances, mouth-watering dishes, traditional dressing (Shuka) as well as making their local art and crafts objects or even purchasing them as souvenirs. What will surprise you is how the Masai have maintained their culture regardless of Tanzania's influence of modernity.
Ideal time of the year to experience Ngorongoro Conservation Area
The best time of the year to experience Ngorongoro Conservation Area largely depends on personal interests and budget, but generally, the Protected Area is open all year round. However, majority of the tours to this safari destination are undertaken in the dry season, from June through October and December to February. These warmer months bring an average temperature of 19˚C while the drier conditions, fewer remaining watering sources and shorter grasses provide better visibility for game drives.
The wet season-March to May and November are the most ideal for experiencing fewer crowds but travellers have to be prepared for game drives via muddy and slippery game tracks in addition to having obstructed wildlife visibility resulting from the taller grasses.
Places of lodging while experiencing Ngorongoro Conservation Area tours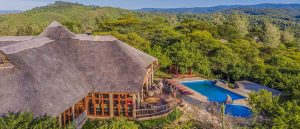 There is wide range of Safari Lodges or Tented Camps in Ngorongoro Conservation Area in budget, midrange or luxury categories. Travellers' favorites in this Protected Area are Serena Ngorongoro Lodge, Lion's paw Camp, andBeyond Ngorongoro Crater Lodge, Ang'ata Ngorongoro Camp, Lemala Ngorongoro Tented Camp, Ngorongoro Sopa Lodge, Ngorongoro Oldeani Mountain Lodge, Ngorongoro Wildlife Lodge, Neptune Ngorongoro Luxury Lodge, Ngorongoro Crater Lodge, Hhando Coffee Lodge, Ngorongoro Rhino Lodge, Ngorongoro Forest Tented Lodge, Rhino Lodge, Ndutu Safari Lodge, Lemala Ngorongoro, the Highlands, to mention but a few.
Getting to Ngorongoro Conservation Area
Ngorongoro Conservation Area is about 100 miles west or 3 hours' drive from the Town of Arusha thus one of the easiest-to-access safari destinations in Tanzania. For Road transfers, it is easily accessed through Karatu Town, via Loduare Gate. Travellers connecting from Serengeti National Park can connect to Ngorongoro Conservation Area via the western side by driving on a gravel road and arrival is via the Naabi Hill Gate.
The beautiful Ngorongoro Conservation Area is also accessible via air, whereby chartered flight from Arusha Airport, Kilimanjaro International Airport or Julius Nyerere International Airport land at the main Airstrip at the edge of the Ngorongoro Crater. This option rewards travellers with aerial views of what you are about to experience during your adventures.