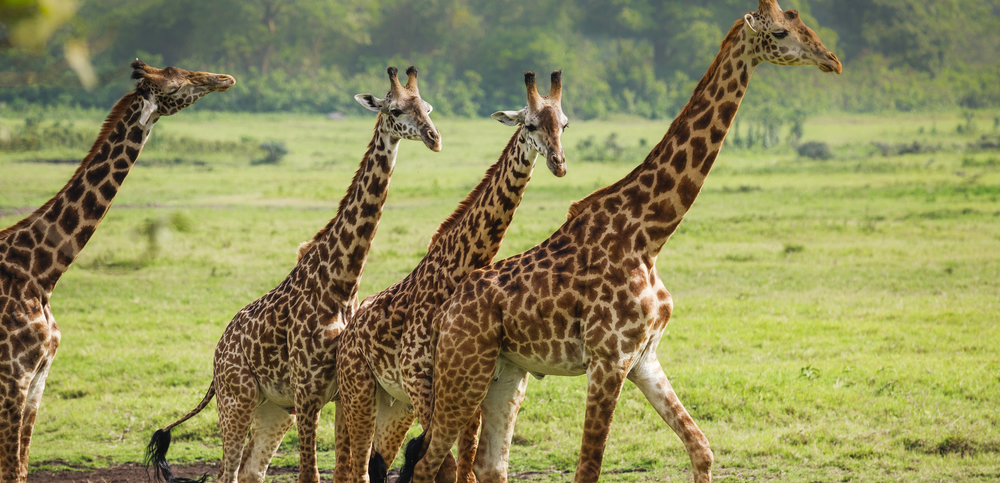 Situated just 15 miles East of Arusha City is Arusha National Park, which shelters some of the most beautiful animals you ever desired to see during Tanzanian safaris. This Park encompasses the stunning Mount Meru, a protrusive Volcano that stands at 4566 meters above sea level, within the Arusha region in the north-east of Tanzania. For 53 square miles, Arusha National Park is one of the smallest Protected Areas in Tanzania marked by spectacular landscapes within 3 different regions. The Mount Meru Crater venting River Jekukumia and the peak are on the western side of this Park while the Ngurdoto Crater in the south-eastern side has grassland vegetation and the shallow alkaline Momella Lakes are set within the north-eastern side with different algal colors for lots of wading birds.
Being the second highest peak in the country after the popular Mount Kilimanjaro, Mount Meru is just 37 miles away and interestingly creatures a phenomenal backdrop to breathtaking views from the Protected Area to the East. Not only that, this beautiful National Park is situated along a 186-mile axis of the Continent's most popular National Parks stretching from Serengeti National Park and Ngorongoro Conservation Area in the west until Kilimanjaro National Park in the eastern corner. The 53 miles of this Protected Area includes the lower slopes, Ash cone and peaks of Mount Meru, the magnificent Ngurdoto Crate, the breathtaking shallow alkaline Momella Lakes and verdant highland forests that cover its lower slopes.
Arusha National Park History
Arusha National Park came into existence in 1960 and is presently under the management of Tanzania National Parks Authority.
What to see in Arusha National Park
Despite its small size, Arusha National Park boasts of numerous attractions that can't even be enjoyed in the largest of Protected Areas in the country. Visitors here are provided with the similar game viewing experience provided in other safari destinations within the Northern circuit of Tanzania. Travellers are provided unmatched;
Wildlife
Notable wildlife species in this small Protected Area are blue monkeys, Cape buffaloes, African bush elephants, black and white colobus monkeys, Cape buffaloes, zebras, Masai giraffes, bushbucks, common warthogs, blue monkeys, Reedbucks, leopards, Dik-dik, and many others that occupy its forest, savannah, shallow-alkaline Lakes, woodlands and highland areas.
Birds
The birds in varying habitats of Arusha National Park are prolific and surprisingly most of them are not spotted in other areas except this small Protected Area. Visitors can see Bar-tailed and Narina Trogon, Hadada Ibis, Silvery-cheeked hornbills, greater and lesser flamingos, helmeted guineafowls, laughing dove, African fish eagles, Cinnamon-chested bee-eater, Augur buzzard, Little grebes, Tawny eagles, scaly francolin, Verreaux's eagles, scaly francolin, Peregrine falcon, Ostriches, Madagascar pond herons, grey-crowned cranes, Bateleur, Abyssinian ground thrush, white-faced whistling ducks, Black kites, Ayres's hawk eagles, Great Cormorants, Egyptian Goose, Great crested Grebes, Emerald-spotted wood dove, saddle-billed storks, Hammerkop, African emerald cuckoo and Abyssinian nightjar among others.
Besides the animals and birds, Arusha National Park's borders also include the stunning shallow and alkaline-rich Momella Lakes, summits and lower slopes of Mount Meru, the lush highland forests on the lower slopes of Mount Meru, Ngurdoto Crater and many other incredibly beautiful features.
Tourist experiences within Arusha National Park
Enjoy the popular travel experiences in Arusha National park with Lets Go Tours Rwanda. We take you to explore and enjoy the hidden gem in this Park at disconted rates.
Mount Meru Climbing
Hiking or climbing Mount Meru is one of the activities enjoyed by visitors of Arusha National Park, made possible the numerous trails that criss-cross the lower slopes. The 3-day climbing tour is so far the most popular one to get to the tranquil Crater peaks and this provides the less challenging alternative to the Mount Kilimanjaro. Along the way, trails pass through beautiful Rivers and waterfalls, ancient fig trees, cascading water streams, animals especially the black and white colobus monkeys. Drive around the Ngurdoto Crater and the surrounding forest where Hippos, African bush elephants and Cape buffaloes are common.
Game drives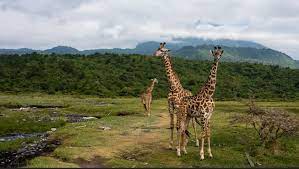 Game drives in Arusha National Park are conducted in different places that include around Momella Lakes, offering a more laid-back and private experience while transversing the lush forest where troops of black and white colobus monkeys, blue monkeys and Olive baboons ate spotted within the tree canopies.
Walking safaris
Arusha National Park is one of the few places in Tanzania where walking safaris are possible and with the absence of predators, you can actually enjoy the activity without an armed Park Ranger. However, the Park don't just provide security but are excellent guides that can identify animals from their sounds, foot prints or droppings. One of the excellent places for walking safaris in Arusha National Park is Tululusia Hill, once used as a look-out for tribal wars of Tanzania and boasts of jaw-dropping views of the Park's lower areas.
Canoe Tours
Visitors of Arusha National Park have the chance to drift along the shallow waters of shallow alkaline-rich Momella Lakes via a canoe while relishing the jaw-dropping views of the surrounding grassland as well as animals that visit the shores for water and fresh pastures. These tours accommodate at least two people and take from two to three hours while offering the perfect option for traditional safari experiences.
Bird watching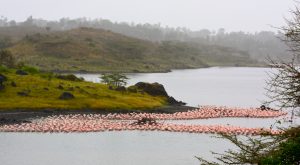 Bird watching is another exciting tourist experience provided in Arusha National Park and brings visitors closer to the Augur buzzard, white-faced whistling ducks, Abyssinian ground thrush, Bateleur, Black kites, grey-crowned cranes, Madagascar pond herons, Little grebes, scaly francolin, Tawny eagles, scaly francolin, Peregrine falcon, Verreaux's eagles, Ostriches, Ayres's hawk eagles and so much more.

Museum Tours
These tours are mainly undertaken at the Ngurdoto Museum, a spectacular site that shelters a phenomena collection of different insects, birds and animals that exist in the Protected Area.
When to go to Arusha National Park
The perfect time to go to Arusha National Park is between June and September and December through February because they are traditional dry months. They experience hot sunshine with temperatures reaching 24˚C drying out most water sources and this means vegetation become scantier. With limited watering sources, animals gather around the few remaining ones thus increase animal visibility during game drives or walking safaris. This time also corresponds with the Great annual migration, if you have plans of experiencing it during your Tanzania safari.
The months of March, April, May, October and November are generally wet and travellers always avoid them because park roads become muddy and slippery thus affecting on-foot adventures as well as game drive. However, these months are the best for bird watching and photography because the flowers and vegetation start blooming with the arrival of rains.

Accommodation options for travellers exploring Arusha National Park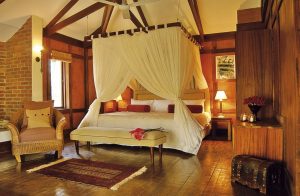 Kili Villa Resort
Kili Villa Resort is a stupendous Retreat sitting on the Golf Course and Wildlife Estate at a stone throw from Arusha International Airport, It is undeniably one of the best places of lodging for travellers to Arusha National Park. It features 3 private Villas as well as luxury rooms and each Villa is specially designed to provide typical African deigns as well as craftsmanship blended with Colonial style furniture. They also have open-plan open bathrooms.
River Trees Country Inn
This accommodation facility was once an Old Coffee farm and still provides a romantic ambiance of a well-organize homestead. It is set along the foothills of Mount Meru, rewarding visitors with the awe-inspiring views of the Mount Kilimanjaro ranges. It has gracefully rustic cottages scattered along the River and hidden within the thickets of tall tree. Meals are served from the restaurant that served delicious meals prepared from freshly-harvested ingredients.
Africa Amini Hillside Retreat
This airy Holiday home is set within the edge of Arusha National Park, close to the Momella Lakes. Rooms here have spacious bedrooms with cozy beds, private bathroom with toilet and shower, massage center, outdoor fireplace, small private swimming pool, to mention but a few.
Arusha Villa Karamu Coffee Estate
This small accommodation facility is strategically set in the middle of a coffee plantation where lots of monkeys always swing through giant trees. It also provides visitors with magnificent views of Mount Kilimanjaro and Meru but when it comes to facilities, a swimming pool, kitchen garden and a spacious restaurant is provided. It has 6 vast and stupendous rooms as well as two family rooms. Four of these rooms are spectacular garden view rooms
Lake Duluti Lodge
Lake Duluti Lodge is another amazing accommodation facility used by visitors of Arusha National Park and has about 19 spacious and modern rooms with a touch of African style. These Chalets are strategically located to provide maximum seclusion as well as beautiful views within the 30-acre coffee estate. The design of the Lodge offers the feeling of being home instead of a Hotel, with mouth-watering dishes and first-class amenities. Present at the Lodge is a spacious restaurant, spa and wellness center, to mention but a few.
Other fantastic accommodation facilities within or near Arusha National Park include Hatari Lodge, Momella Wildlife Lodge and many
Getting to Arusha National Park
The commonest way of getting to Arusha National Park is the road trip, because this Park is only 45 minutes' drive from the City of Arusha. This makes it one of the best places for day tours in Tanzania.Lets Go Tours Rwanda helps you book and reserve your favority hotel/lodge or camp in Arusha National park at affordable rates.