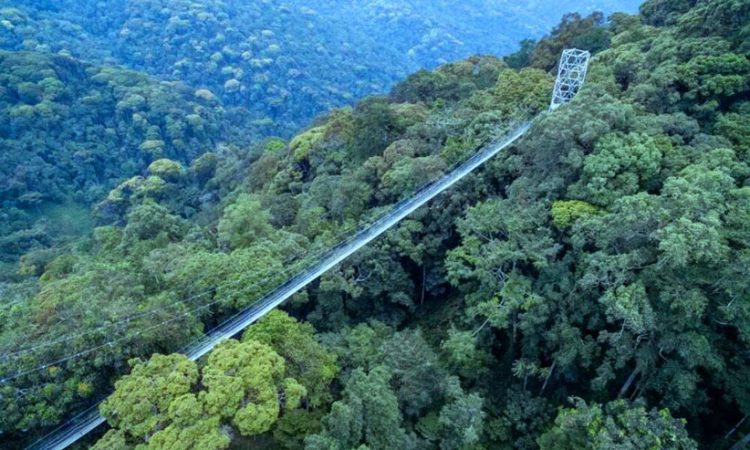 Visit Nyungwe Forest National park, located in southwestern Rwanda in the borders with Burundi with Lets Go Tours Rwanda. Nyungwe Forest National Park is the largest Afro montane forest in Africa bordered by Lake Kivu in the west and Burundi's Kibira National Park in the south. The national park was established in 2004 covering a land area of 970 square kilometers. Vegetation in Nyungwe Forest National Park mainly comprise of Swamps, bogs, rain forest, grasslands and bamboos which serve as food an habitats for various birds and wild animals inhabited there. In 2020, Rwanda Development Borders transferred the management of Nyungwe Forest National park to African Parks in an agreement of 20 years. However, the two bodies till work hand in hand all bookings are still done through RBD. Nyungwe Forest National Park is home to 13 primates, 85 mammals, 275 bird species, 38 reptiles and 1068 plant species. The park offers a variety of interesting activities and attractions rewarding you with a lifetime experience.
Top things to see & do in Nyungwe Forest National park
Chimpanzee trekking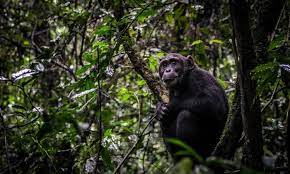 Hikes to watch the endangered chimpanzees are the number one tourist activity done in Nyungwe Forest National Park. Over 90% of travelers to this rain forest come to trek chimpanzees. The forest is believed to shelter over 600 chimpanzees, which make it a prime destination for memorable chimpanzee trekking tours. Rwanda Development Board has 1 habituated chimpanzee troop while the other chimpanzee community resides in the nearby Cyamudongo Forest, which was cutoff from the main forest by deforestation. Chimpanzee trekking commence at any of the three starting points, which are Gisakura, Kitabi and Uwinka visitor information center where pre trekking briefing and registration take place. Chimpanzees are clos relatives to people sharing over 90% of human genes. The human like characters of chimpanzees make an encounter with them a lifetime experience. A single chimpanzee permit in Nyungwe Forest National Park cost $90 for nonresidents and $60 for East African citizens. The permit cost is inclusive of park entrance fees, park rangers fee and conservation fee. Some part of the permit cost is given back to the community to improve the livelihoods of local people who live in the boundaries of the park. Travelers are reminded to keep the guidelines of chimpanzee trekking as directed by the park rangers at the start of the trek. These include
• Avoid direct eye contact with the chimpanzees
• Do not use flash light cameras
• Keep a distance of 7 meters away from the endangered chimpanzees
• Speak at a low tone, do not shout for the chimpanzees
• Do not trek when sick, chimpanzees are susceptible to human illnesses
• Do not litter in the park
• Do not eat, drink or smoke in the presence of the chimpanzees
• When a chimpanzee charges, keep calm and walk backwards in a gentle way. Do not try to fight back.
You can book directly with Rwanda Development Board directly or through Lets Go Tours Rwanda, the trusted tour operator in Uganda and Rwanda.
Colobus monkey trekking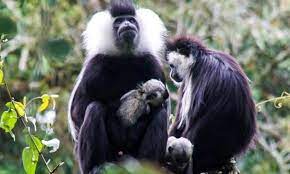 Nyungwe Forest National park is home to a variety of monkey species. Colobus monkey trekking is therefore another interesting activity to enjoy in this rain forest. The trek is an opportunity to see different money species such as Blue Monkeys, L'Hoest Monkeys, Owl-faced monkeys, Golden monkeys, Red tailed monkeys, Crowned monkeys, Dent's Mona Monkey, Velvet monkeys, Olive baboons, Grey cheeked mangabeys, and Angola Colobus monkeys. Dry season between June to September and December to February is the best time for colobus monkey trekking in Nyungwe Forest National park. You also need a walking stick to easily walk through the jungle.
Bird Watching
Go bird watching to discover rare bird species inhabited in Nyungwe Forest National Park with Lets Go Tours Rwanda. The forest is home to over 300 bird species some of which are rarely found somewhere else in Africa. Birdlife International recognized Nyungwe Forest was as an Important Birding Area hosting numerous bird species. Rockefellers' Sunbird, Albertine Owlet and Red Collared warbler are some rare birds you will not find anywhere else except in Nyungwe Forest National park. Birding is best done in the morning hours when birds are rising up. The notable birds you will see in Nyungwe Forest National park include Long Crested Eagle, Crowned Hornbill, Chin spot Batis, African Paradise, Eastern Mountain greenbul, Regal Sunbird, Dusky Crimson wing, Res collared babbler, Handsome Francolin, Buff-throated apalis, Mountain Masked apalis, Yellow eyed black flycatcher, Kivu ground thrush, Archer's robin chat, and Rockefeller's sunbird among others. Birding is done all year round but January to June is the best time when birds are vocally active and easily seen. Migratory birds are seen between November and April

Canopy walk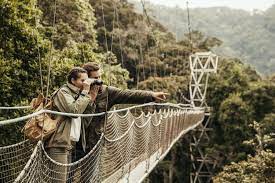 Enjoy a guided canopy walk on the 70 meters high-suspended bridge above the ravine forest of Nyungwe Forest National Park. The 2 hours walk offer you great views of the afromontane forest , Lake Kivu, wild animals, birds, the Virunga Volcanoes and local communities in the neighborhood. The experience is recommended for adult travelers much as young ones aged 6 years and above can also take part in this adventure. The canopy walk permits costs $60 inclusive of the park entrance fees and ranger fees. There are four scheduled canopy walks at 8am, 10am, 1pm and 3pm. You can choose which time is suitable for you to enjoy this exceptional experience.
Nature/Forest Walks
Nature/forest walks are the best way to explore the beauty of Nyungwe Forest National Park. Get your walking stick and in your closed hiking boots/shoes for a nature walk traversing through the dense forests ad thick bushes of Nyungwe. Follow different trails leading you to specific attractions with the forest. The common walking trails in Nyungwe Forest National Park include Kamiranzovu trail, Ngabwa trail, Igishigisha trail, Bigugu Trail, Congo Nile trail, Muzimu trail, Rukuzi trail, Buhoro trail, Imbaraga trail, Umogote trail, Irebero trail, Umuyove trail, Isumo trail, Karamba trail and Uwinka trail among others. Nature walking especially in the morning gives you chance to enjoy the sweet melodies of bird waking up. The walk through the jungle is also a chance to encounter other wild animals, which live in this jungle.
Accommodation in Nyungwe Forest National park
Accommodation services in Nyungwe Forest National park for those who want to stay overnight is categorized into budget, luxury and midrange. The popular lodges/hotels and tents in Nyungwe Forest include One & Only Nyungwe Lodge, Nyungwe Top View Hill Hotel, Nyungwe Nziza and Gisakura Guest House among others. These serve you with excellent food and sleeping services at affordable rates.
In conclusion, Nyungwe Forest National Park offers it all you need for your Rwanda safari. Contact Lets Go Tours Rwanda, book a safari to Nyungwe and enjoy the beauty of this natural forest.